Kansas State University Agricultural Education
Spring 2022 Teaching Interns
Students enrolled in Kansas State University Agricultural Education program complete teaching internships in classrooms across the state. Each intern gains experience in classroom and laboratory instruction, supervision of students' agricultural experiences, and advising the student leadership development organization, FFA.
Spring 2021 Teaching Interns
Back row: Michael Wright, Dale Hoch, Brad Ensz, Ryan Beeson, Jacob Chalfant
Middle rear: Tracy Oelschlaeger, Cade Fiske, John Kennedy, Lindsey Nolan, Brook Vetter
Front middle: Madison White, Ashley Nelson, Emma Lehmann, Rebekah Cain
Front row: Megan Asbury, Annie Humbolt, Kaydie Brandl, Marie Reveles
Spring 2020 Teaching Interns

Back row: Elizabeth Meyer, Kyler Langvardt, Dakota Troyer, Mackenzie Tynon, Dominic Ruppert, Caleb Powelson, Timothy Kennedy, Mariah Moore, Matthew Milholm
Middle row: Matthew Brungardt, Karlea Hyman, Hannah Hosick, Katelyn Pinkston, Trenton Smedley, Carolgene Romans, Cara Wolverton, Jenna Langer, Allison Dix
Front row: Morgan Jilek, Victoria Kimbrough, Casey Ballard, Jenna Thurman, Falon Kickhaefer, Zachary Callaghan, Caitlin Dreher, SaRae Roberts, Victoria Thompson
Spring 2019 Teaching Interns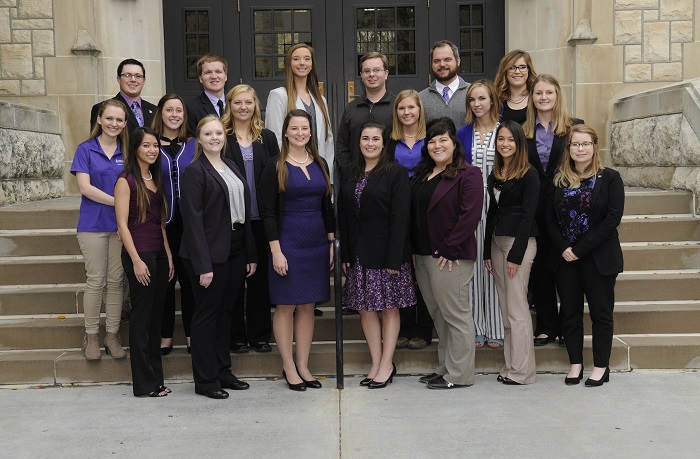 Back row: Trent Johnson, Eric Koehlmoos, Nikole Cain, Matthew Schick, Jared Schramm, Savannah Pryor
Middle row: Moriah Cobb, Rachel Bellar, Caroline Howsden, Cassandra Ebert, Ashley Lauinger, Allyson Dorrell
Front Row: Meghan Strassburg, Sydney Cullison, Hannah Fry, Christina Hoffman, Caitlyn Thompson, Melissa Strassburg, Anna Williamson
Spring 2018 Teaching Interns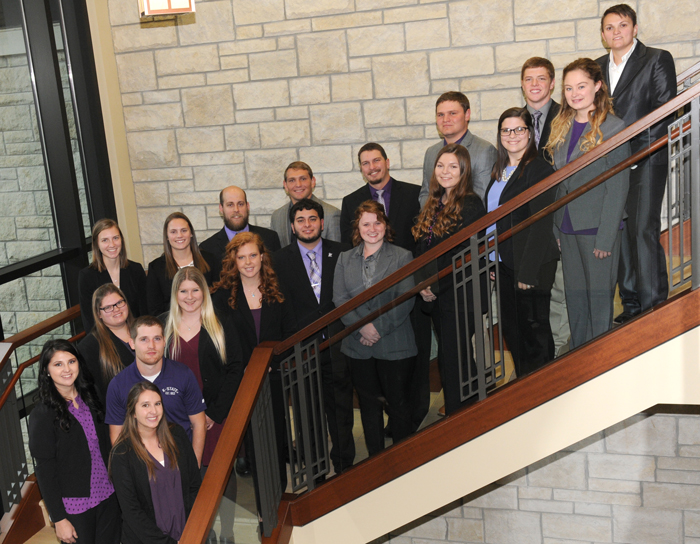 Front row, left to right: Ellen Blackwell, James Weller, Chelsey Figge, Paxton Boore, Matthew Anguiano,
Elizabeth Rogers, Michaela McKenzie, Alexandra Walters, and Cassie Campbell
Back row, left to right: Caitlyn Wedel, Mallory Burton, Baylee Siemens, Josephine Reilly, Wyatt Maurer,
Zachariah Cooper, Michael Adame, Dane Cummings, Ty Nienke, and Brooke Harshaw
Spring 2017 Teaching Interns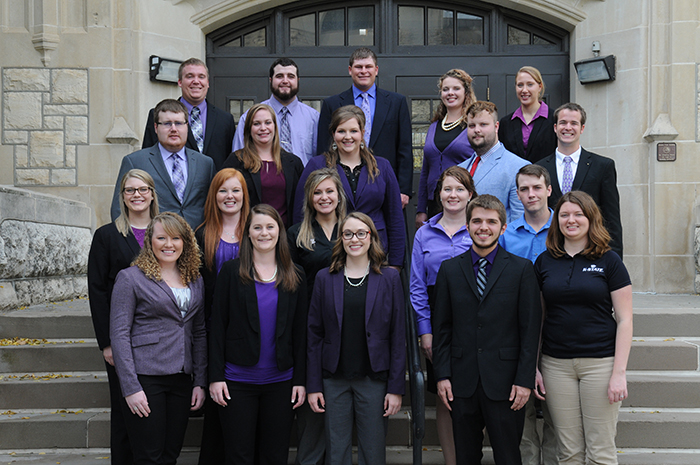 First row left to right: Cheyenne Moyer, Beth Augustine, Carley Conley, Tyler Cates and Amber Mock
Second row left to right: Alicia Torr, Courtney Shamberger, Makayla Leslie, Melissa Poet and Wyatt Wentz
Third row left to right: Colton Branch, Megan Meiwes, MaKayla LaRue, Cain Fouard and Cody Holliday
Fourth row left to right: Jacob Rutledge, William Johnson, Trint Peine, Macy Anderson and Ellen Revell
Spring 2016 Teaching Interns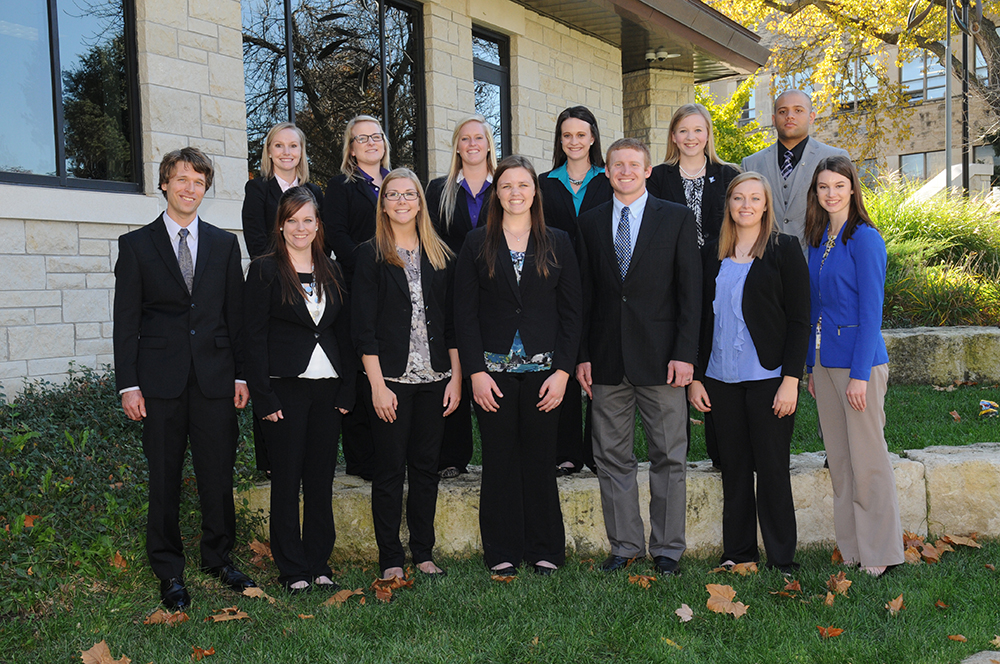 Back left to right: Morgan Ancell, Alicia Oard, Blair Nickelson, Michelle Keener, Andrea Mattas
and Alfonzo Prescott.
Front left to right: Matthew Peterson, Ashley Tonn, Hannah Boehm, Shelby Bargmann, Austin Seinfort
Arika Haresnape and Ashley Leer.
Spring 2015 Teaching Interns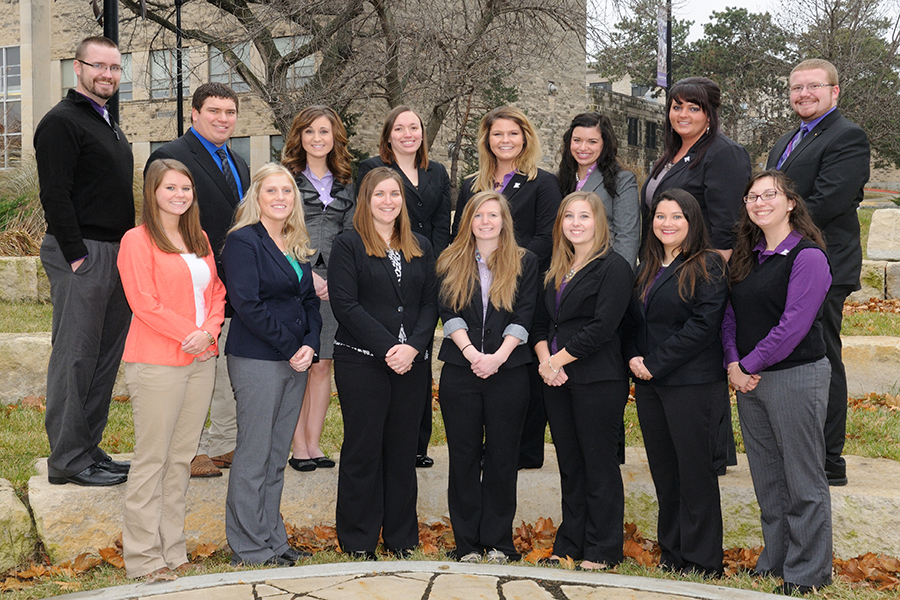 Back left to right: Mackenzie Witzel, Jacob Stroda, Sara Schifferdecker, Sarah Lewis, Hannah Anderson, Kinzie Selke, Kaitlyn Harlow and Jonathan Meyer
Front left to right: Amanda Strickler, Tara Lohse, Katelyn Vincent, Sara Wendt, Theresa Jardine, Alicia Hampton and Kayla Klahr