Richard Baker Retires
To hear Richard tell it, he became a broadcaster because a fraternity brother told him he should get into the media business because he likes to talk.
With those inspiring words, Richard set off on his quest, studying at K-State and working at several radio stations across Kansas in the 1960s and 70s. He was running a black radio station in Omaha when legendary K-State broadcaster Ralph Titus called him looking for a new news director at KSAC, the college's radio station that would later become KKSU. Richard ran the news operation for the radio station from 1977 until 2002, when the university lost the station, to the regret of many. At that point, Richard was offered the opportunity by our former department head to transition to teaching agricultural communications, which he did from 2002 until this week.
Throughout his four decades at K-State, Richard also produced a weekly interview program called Perspective. His original charge was to share information that people would not otherwise have easy access to, so for decades, Richard has hosted a wide array of thought-provoking author on topics from astrophysics to xenophobia.
Whether working by serving the Kansas listening audience or working with students, Richard has held to – and taught – his personal ethics of fact-based reporting, fairness, quality and transparency. He's never been afraid to ask the tough questions – and as a good journalist, he actually relishes those moments. Iron sharpens iron, and Richard, to his credit, helped many a colleague and student sharpen their skills and thinking.
The department thanks Richard for his four decades of service at Kansas State University!
Agricultural education student named National FFA Star in Agriscience
Eric Koehlmoos, senior in agricultural education, was named the 2018 National FFA Star in Agriscience.
As a high school student at South O'Brien in Paullina, Iowa, Koehlmoos used his home ATF-approved ethanol facility, to research the processes used in a commercial ethanol plant. In high school, his research competed nationally and internationally. While at K-State, Koehlmoos has conducted research on teacher perceptions of the Kansas FFA Agriscience Fair.
Read more about Koehlmoos and his research.
College of Agriculture faculty and student attend international conference
Chad Miller, associate professor of horticulture, and Gaea Hock, associate professor in agricultural education, attended the International Conference on Educational Innovation Oct. 17-19 in Agrarian Topics in Lima, Peru. Zachary Callaghan, junior in agricultural education, also attended the conference.
They each had a presentation or a poster presented at the conference.
Agricultural education undergraduates receive research awards
Undergraduate students and faculty in agricultural education were in Fargo, North Dakota, Oct. 6-8 to participate in the North Central American Association for Agricultural Education conference.
Zachary Callaghan and Caitlin Dreher, both juniors in agricultural education represented K-State extremely well at the conference. They competed against professors and graduate students in several areas. The two undergraduates received the following awards:
First Runner Up Research Presentation — Zachary Callaghan and Gaea Hock.
Outstanding Research Poster — Caitlin Dreher and Gaea Hock.
Outstanding Innovative Idea Poster — Zachary Callaghan, Gaea Hock and Brandie Disberger.
Jonathan Ulmer, associate professor of agricultural education, was recently selected to receive the Honorary American FFA Degree on Oct. 26 in Indianapolis.
K-State Communications and Agricultural Education faculty to present at Education Research Conference
Patrice Scott reports, "Kansas State University will be well represented at the American Educational Research Association conference in New York this week where multiple College of Education faculty and graduate students will present." Brandie Disberger, instructor of Communication and Ag Education and Sally Yahnke, associate professor of Curriculum and Instruction, will present "Professional Development Needs of Alternatively Certified Career and Technical Teachers: A Borich Model."
Agricultural Education Club Organizes the College of Ag Scavenger Hunt at KSU Open House 2018
The Agricultural Education Club coordinated the College of Ag Scavenger Hunt during open house. Matthew Schick organized the event for the Agricultural Education Club. He gathered donations from 13 different organizations within the College of Agriculture to print over 300 t-shirts. Individuals who completed the scavenger hunt earned a free College of Agriculture T-Shirts. Student volunteers passed out scavenger hunt cards and t-shirts.
The Agricultural Education Club would like to thank the following sponsors:
-Agricultural Technology Management Club, Alpha Gamma Roe, Alpha of Clovia, Feed Science Club, Food Science Club, George Wright Society, Horticulture Club, Milling Science Club, Plant Pathology Club, Sigma Alpha, Wheat State Agronomy Club, Ag Economics/Ag Business Club, and Collegiate Cattlewomen.
Agricultural Education Student Teacher Interns Participate in Professional Development
Story by Anissa Zagonel, master's student Click here for the full story: http://enewsletters.k-state.edu/agcomm/ag-ed-student-teacher-interns-participate-in-professional-development/
K-State agricultural education student teaching interns recently participated in two days of professional development for the Ag Ed Enhancing Pre-Service Instruction (EPIC) Experience sponsored by Kansas Corn Commission. Students were able to tour and talk with various production agricultural sectors in Garden City, Kansas.
Communications and Agricultural Education Alumni Create Magazine for Ranch House Designs
Two of our graduates Meg Drake (Spring, 2013) and Melissa Grimmel Schaake (Spring, 2016) create "Ranch House Journal" magazine for Ranch House Designs. Meg is the editor and Melissa is the graphic designer. Our K-State program was featured in this magazine titled "Welcome to Wildcat Country". In addition, Nicole Lane Erceg (Fall, 2015 grad) wrote a story about Lyons Ranch, featuring KSU alum Amy Lyons Langvardt (Spring, 2008) in this publication. Click on the link to view the entire magazine via issuu: https://issuu.com/ranchhousedesigns/docs/rhj-spring2018-web .
Kansas State University promotes Communications and Agricultural Education Faculty Members
Eighty-two Kansas State University faculty members are receiving promotions in rank, while 47 faculty members are earning tenure. "Each of our new tenured and promoted faculty members have made significant contributions through their teaching, scholarly endeavors and service to their departments, college, our university and their professions. We celebrate these outstanding achievements with them," said April Mason, provost and senior vice president.
Dr. Jason Ellis, Department Head and faculty member in Agricultural Communications and Journalism, has earned a promotion to full professor. Dr. Gaea Hock, faculty member in Agricultural Education, has earned a promotion to associate professor.
Taking the Classroom Outdoors
Dr. Katie Burke is taking the classroom outdoors this year through a series of excursions for Agricultural Communications and Journalism students, staff, and faculty members. Students braved the icy April winds on the first excursion to the Konza Prairie. The hike through the recently burned tallgrass prairie provided adventurers an opportunity to get outside, de-stress, and to casually learn about fire, grazing, and the agricultural benefits of the tallgrass prairie. Students brought their cameras, enjoying and capturing the vista view of the prairie in early spring.
Plans are currently underway for the second excursion. Want to join us? Have a great idea for a hike? Let us know! Email Dr. Katie Burke, kjburke@ksu.edu
Dr. Jason Ellis named Department Head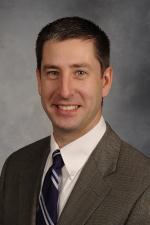 On December 21, 2017, Dean John Floros announced Dr. Jason Ellis as the new Head of the Department of Communications and Agricultural Education. Dr. Ellis officially began his new position on January 14, 2018. He is the third person to fill this role, following Mr. Robert Furbee and Dr. Kristina Boone.
Dr. Ellis earned his bachelor's degree from Kansas State University in 1998, with a dual major in agricultural communication and animal sciences and industry. After graduation, he went to work as an account supervisor for a Des Moines, Iowa, advertising firm until 2002. He returned to school and earned his master's degree in meat science in 2003 and doctorate in agricultural education and studies in 2006, both from Iowa State University. He served as a graduate research assistant, project coordinator, extension specialist, and lecturer at Iowa State while pursuing his graduate degrees. He served as an assistant professor at the University of Nebraska-Lincoln for five years before returning in 2011 to Kansas State University as an assistant professor and then associate professor.
The full university announcement can be found at http://www.ksre.k-state.edu/news/stories/2018/01/jason-ellis-department-head.html
ACT Club Hosts "Aggieland" at KSU Open House 2018
Students from the Agricultural Communicators of Tomorrow (ACT) club hosted a trivia game at Kansas State's 2018 Open House on April 7th. The game was popular with all age groups and tested players' knowledge about Kansas State and the Manhattan area. Chocolate-covered soybeans, courtesy of the Kansas Soybean Commission, were rewarded to all who played. A big thanks to our ACT club members and to all who stopped by our booth!
Student Spotlight: Kaci Foraker Rocks Meat Judging
Kaci Foraker, sophomore in Agricultural Communications and student worker in the publishing unit, was part of the K-State Meat Judging Team that recently took 1st Place at the Iowa State Meat Judging contest. Kaci placed 4th in Individual Overall and 3rd in Pork Judging. Good job, Kaci!
Seven Students from the Department of Communications and Agricultural Education Become Ag Ambassadors
After completing the selections process (starting with 57 applicants), seven of our students have been selected as new Ag Ambassadors. There are 22 new members this year, many of whom are out-of-state students. Congratulations to Allison Bertz (ACJ), Katelyn Harbert (ACJ), Hannah Hosick (AED), Michaela Hughes (ACJ), Emma Lehmann (AED), Mia Pentz (AED), and Marie Reveles (AED)!