Career Opportunities Bright for Agricultural Education Students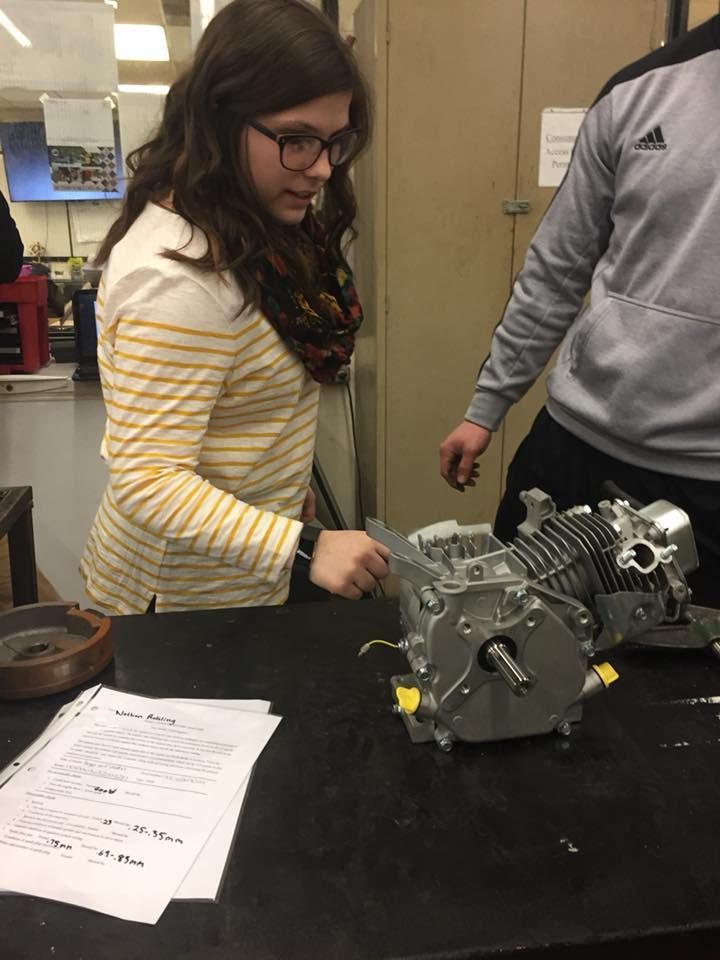 More positions open for teachers than colleges and universities can fill
Growing up in Plainville, Kansas, Alexandra Walters considered a career in social work or education, but decided early on to teach about agriculture. A 2018 graduate of K-State, Walters is a first-year agriculture education teacher at Peabody-Burns Middle School-High School in Peabody, Kansas, where she teaches classes in plant science, animal science, food science, agricultural mechanics and others. "My students enjoy anything they get to design themselves," she said. "For their fall final, my Food Science class created their own Christmas cookie business where they were tasked to take a traditional recipe and swap a nutrient to make it healthier. The students had to conduct sensory analyses and reviews with their peers in the school and reevaluate their recipe. The project went over really well, not only with students in the class, but also those around the school."
Unlike Walters, the path was not as clear for ag education teacher Anthony Meals, who grew up in a military family that moved around often. "I did not take my first ag course 'til I was a junior in high school when we moved to Clay Center, Kansas," Meals said. "I had a long desire to be an educator, but I was always waffling between being a history teacher or English teacher. It was not until I took an ag class that I knew this is what I was being called to do." A 2014 K-State graduate, Meals is in his fifth year of teaching agriculture at Blue Valley High School in Randolph, Kansas.
Meals and Walters are part of a growing trend in middle schools and high schools across the country to offer agricultural education programs, and colleges and universities can't turn out graduates fast enough to keep up with demand. "There is a nationwide shortage of agriculture teachers," said Brandie Disberger, an instructor in Kansas State University's Department of Communication and Agricultural Education. "Here in Kansas we are currently only graduating about half of the needed agriculture teachers. We have had 100 percent placement in this major for over 20 years." While some students put their skills and knowledge to work in production agriculture after high school, many further their education by moving into university agriculture education and other higher education programs. They then have a range of career opportunities available to them, including going back into the classroom to teach others. Disberger, who taught high school agricultural education herself for 10 years before coming to teach at K-State, said contrary to some perceptions there are ag education openings in urban and suburban school districts as well as in rural areas. K-State has offered courses in agricultural education for more than 100 years, but the program is relatively small. Agricultural education classes typically range from 12 to 25 students. Currently there are 90 undergraduates in the program, with about 20 graduating each year. The program is growing, however, and Disberger anticipates more than 25 graduates in 2020.
Nationwide, in 2017 there were 12,690 agriculture education teachers, according to the National Association of Agricultural Educators. More than 5,500 of them were female. Students who have an interest in agriculture and a passion for working with people make excellent candidates, Disberger said, noting that as of May 2018, average starting salaries in Kansas for students with a bachelor's degree in agricultural education were more than $40,000. The average salary of agriculture education teachers across the country in 2017 was $43,093, according to the NAAE, with averages across the U.S. varying by region. "It is critical for people and agriculture, that people understand how agriculture and the industry impact their lives," said Jonathan Ulmer, K-State associate professor of agricultural education. "High school agriculture guides students through career exploration and preparation through the classroom, laboratory, FFA and work-based learning." The breadth of training that high school and college students receive lends itself to a range of career opportunities, Disberger said. About 80 percent of K-State's ag education graduates go on to teach at the high school level, but some move into careers in extension where they teach adults in less formal settings. Others work in agriculture-related sales or service positions, non-profit organizations or pursue advanced academic degrees. Students study a variety of topics, from energy systems to animal science to plant systems; food products and processing; biotechnology in agriculture; power, structural and technical systems; and more. Agricultural education students learn through classroom and laboratory work, but also through experiential learning, typically outside the classroom. Many high schools also use the National FFA Organization and other programs to help students hone their leadership skills.
When asked about his students' favorite project, Meals said it depended on where their interests were, for example: "If you asked my Ag Mechanics students, it would be individual woods projects; if you asked my Vet Science class, it would be either the surgery training unit or animal grooming unit; if you asked my Applications in Horticulture class it would be the annual spring landscaping project around our school; and if you asked our Ag Engineering students, they would describe troubleshooting prototype designs on the 3D printers."
"Some individuals think that career and technical education programs, including agricultural education, are closing in high schools when it is just the opposite. They are growing rapidly," Disberger said, noting that the number of Kansas FFA chapters had grown to 198 in 2018 from 181 in 2016.
What's at stake? In Kansas alone, agriculture contributes nearly $62.8 billion to the state's economy, about 43 percent of the total. Kansas is a leader in wheat and sorghum production, as well as cattle and meat production. The state's farmers and other agricultural businesses export $4.2 billion to countries around the globe. Educating middle, high school and college students who in turn contribute by becoming better teachers, farmers, ranchers, industry and community leaders is the goal.
Richard Baker Retires
To hear Richard tell it, he became a broadcaster because a fraternity brother told him he should get into the media business because he likes to talk.
With those inspiring words, Richard set off on his quest, studying at K-State and working at several radio stations across Kansas in the 1960s and 70s. He was running a black radio station in Omaha when legendary K-State broadcaster Ralph Titus called him looking for a new news director at KSAC, the college's radio station that would later become KKSU. Richard ran the news operation for the radio station from 1977 until 2002, when the university lost the station, to the regret of many. At that point, Richard was offered the opportunity by our former department head to transition to teaching agricultural communications, which he did from 2002 until this week.
Throughout his four decades at K-State, Richard also produced a weekly interview program called Perspective. His original charge was to share information that people would not otherwise have easy access to, so for decades, Richard has hosted a wide array of thought-provoking author on topics from astrophysics to xenophobia.
Whether working by serving the Kansas listening audience or working with students, Richard has held to – and taught – his personal ethics of fact-based reporting, fairness, quality and transparency. He's never been afraid to ask the tough questions – and as a good journalist, he actually relishes those moments. Iron sharpens iron, and Richard, to his credit, helped many a colleague and student sharpen their skills and thinking.
The department thanks Richard for his four decades of service at Kansas State University!
Agricultural education student named National FFA Star in Agriscience
Eric Koehlmoos, senior in agricultural education, was named the 2018 National FFA Star in Agriscience.
As a high school student at South O'Brien in Paullina, Iowa, Koehlmoos used his home ATF-approved ethanol facility, to research the processes used in a commercial ethanol plant. In high school, his research competed nationally and internationally. While at K-State, Koehlmoos has conducted research on teacher perceptions of the Kansas FFA Agriscience Fair.
Read more about Koehlmoos and his research.
Agricultural education undergraduates receive research awards
Undergraduate students and faculty in agricultural education were in Fargo, North Dakota, Oct. 6-8 to participate in the North Central American Association for Agricultural Education conference.
Zachary Callaghan and Caitlin Dreher, both juniors in agricultural education represented K-State extremely well at the conference. They competed against professors and graduate students in several areas. The two undergraduates received the following awards:
First Runner Up Research Presentation — Zachary Callaghan and Gaea Hock.
Outstanding Research Poster — Caitlin Dreher and Gaea Hock.
Outstanding Innovative Idea Poster — Zachary Callaghan, Gaea Hock and Brandie Disberger.

Jonathan Ulmer, associate professor of agricultural education, was recently selected to receive the Honorary American FFA Degree on Oct. 26 in Indianapolis.
Taking the Classroom Outdoors
Dr. Katie Burke is taking the classroom outdoors this year through a series of excursions for Agricultural Communications and Journalism students, staff, and faculty members. Students braved the icy April winds on the first excursion to the Konza Prairie. The hike through the recently burned tallgrass prairie provided adventurers an opportunity to get outside, de-stress, and to casually learn about fire, grazing, and the agricultural benefits of the tallgrass prairie. Students brought their cameras, enjoying and capturing the vista view of the prairie in early spring.
Plans are currently underway for the second excursion. Want to join us? Have a great idea for a hike? Let us know! Email Dr. Katie Burke, kjburke@ksu.edu