Orientation and Enrollment
Discover endless opportunities to dream, grow and succeed in your academic journey at Kansas State University. Find your passion, gain momentum and study subjects that interest you. Don't miss K-State's orientation and enrollment. This is your chance to choose your classes, learn the keys to college success, and more. At orientation and enrollment, you will experience a day of activities and presentations to prepare you for a successful transition to K-State.
K-State Summer Activities
Don't get a brain freeze - take your time and enjoy summer! Whether you cool off after class at the Dairy Bar with your favorite shake or hit the lanes to get in some bowling, summer at K-State is more that just academics!!!
Click here for the summer activities schedule!
The TASK Force
Exciting things are happening in agricultural education. We are pleased to introduce the inaugural Teach Ag Students of Kansas (TASK Force). These four students will travel to all seven Kansas FFA districts and host two on-campus events encouraging students to consider a future in agricultural education.
Funds for this program are provided through the National Teach Ag Campaign by State Teach Ag Results (STAR) committee of Kansas.
The members of the TASK Force are (back row, from left) Jake Rutledge, senior; Baylee Siemens, sophomore; Courtney Schamberger, junior; Cheyenne Moyer, graduate student.
Ashley Leer (photo on right) is one of 21 agricultural education majors, representing 17 institutions, selected to attend the Future Agriculture Teacher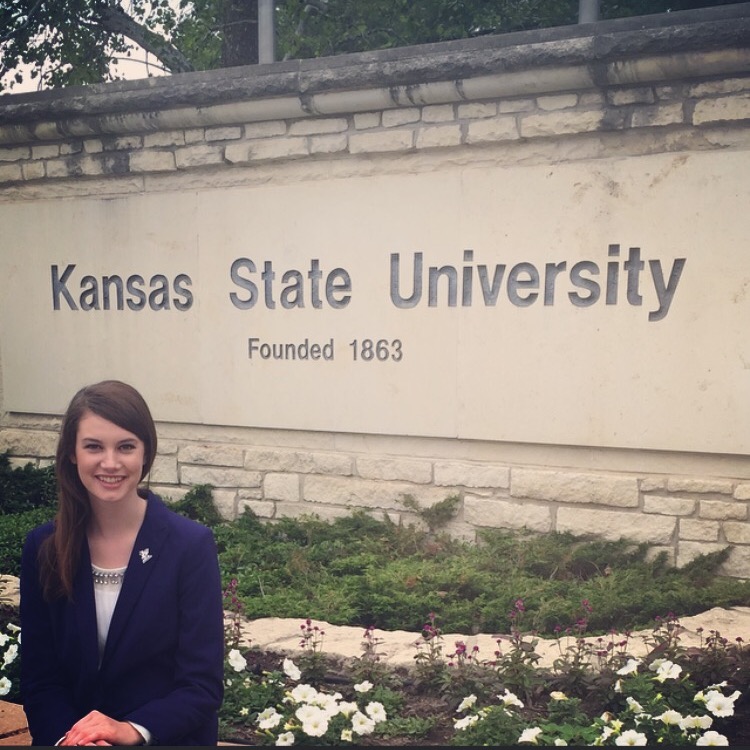 Symposium in Washington, D.C. The future agriculture teachers will participate in inquiry-based professional development, meet with education and agriculture policy makers, and attend the live webcast.
Leer, a senior at Kansas State University, will attend the symposium September 22-24, in conjunction with the National Teach Ag Day celebration.
The event encourages students to teach agriculture and recognizes the important role agriculture teachers play in their schools and communities.
Congratulations Ashely!
Department hosts CASE Institute
Twenty teachers from 14 states visited campus for a nine-day professional development institute hosted by the Department of Communications and Agricultural Education. The institute, which provides the foundation for a full year of curriculum for Principles of Agricultural Science – Plant, was hosted in conjunction with Curriculum for Agricultural Science Education (CASE).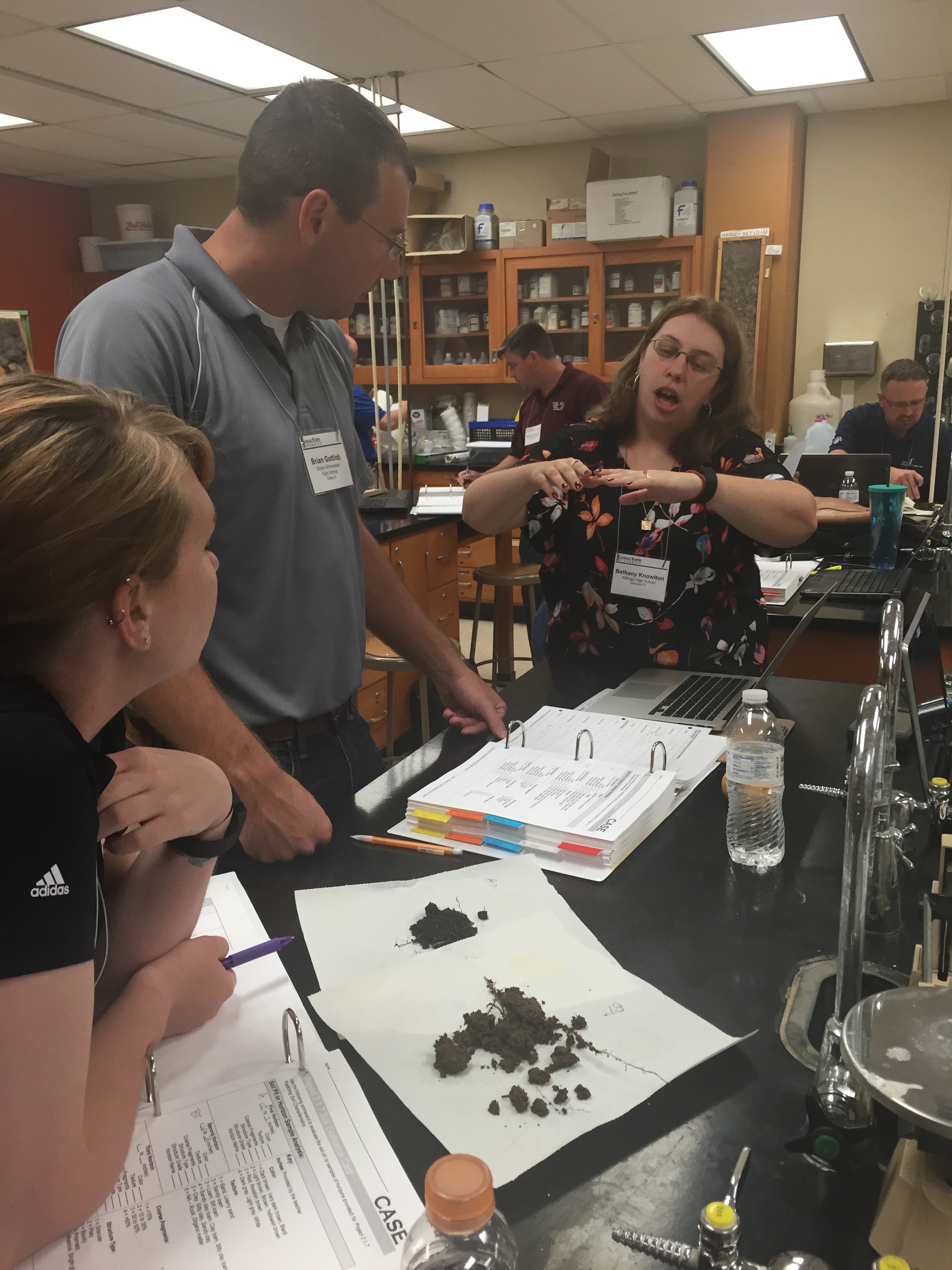 The CASE instructional system is changing the culture of agriculture programs in the United States through intense teacher professional development; inquiry-based, student-focused lessons; assessment; and certification. CASE equips teachers to elevate classroom experiences to prepare their students for success in college and careers that emphasize science, technology, engineering, and math.
Brandie Disberger served as coordinator for the CASE Curriculum Institute and worked closely with CASE staff, CASE Lead Teachers, and participating teachers. While at the CASE Institute, participants spend 65 hours working through lessons in the curriculum and honing skills in inquiry-based learning, which shifts focus in the classroom from teacher-led to student-directed learning.
For more information about CASE, visit www.case4learning.org
Students win honors at 2015 ACE conference
Undergraduate and graduate students, along with faculty and professional staff, represented the Department of Communications and Agricultural Education at the 2015 Association for Communication Excellence (ACE) conference in Charleston, South Carolina. Nine students presented research papers, posters, and workshop activities ranging from revamping educational videos in YouTube to determining the organizational identity of K-State Research and Extension.
Graduate student Jessie Topp received an award for outstanding thesis proposal for "The Role of Non-financial Reporting in Communicati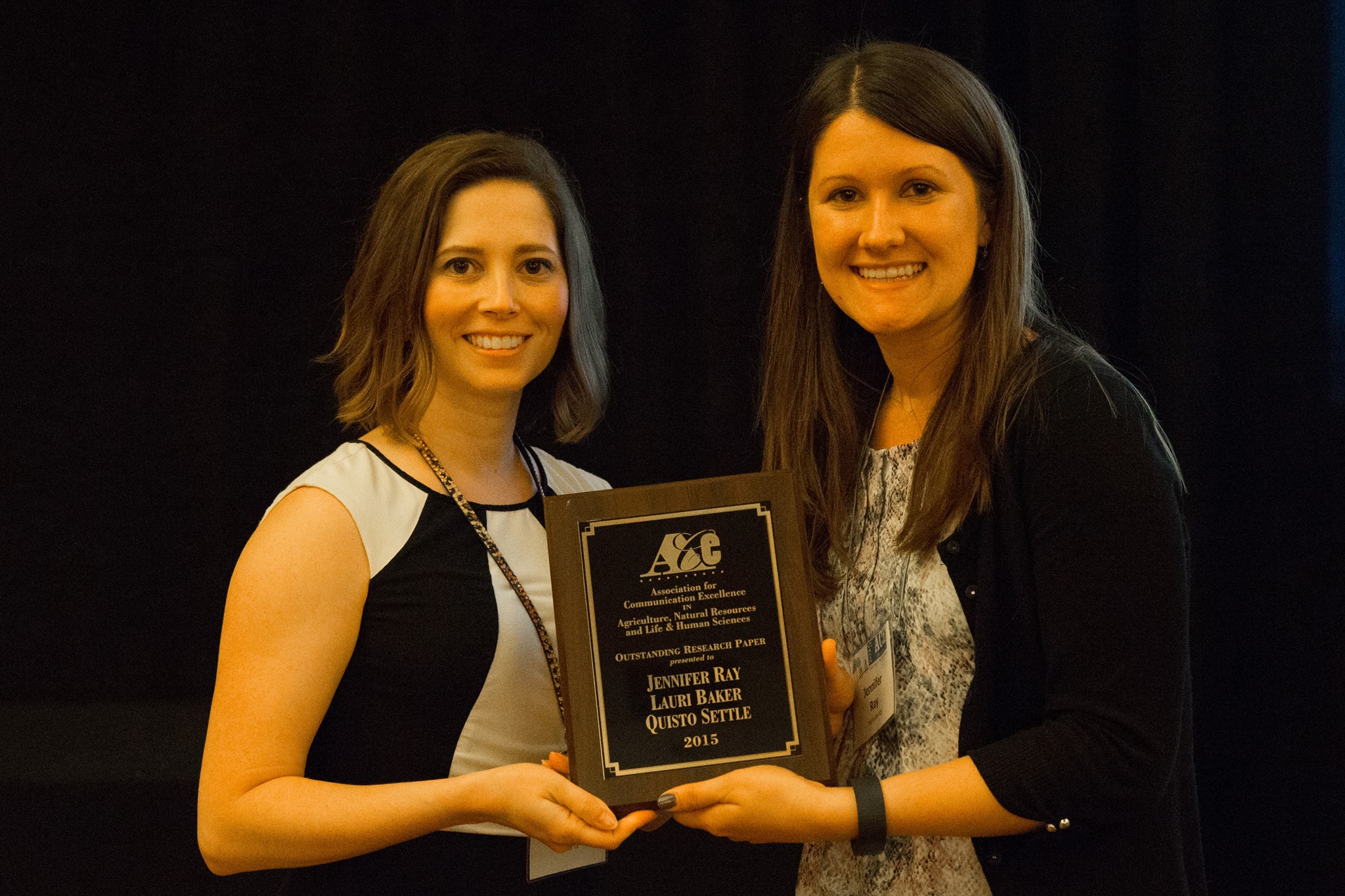 on Sustainability throughout the Food System Supply Chain."
"It takes a lot of time and hard work to write a thesis, so it is an honor to be recognized," says Topp.
Jennifer Ray, also a graduate student, received an award for outstanding research paper, "Ask the Audience: Determining the Organization Identity of a State Agency."
For more information about ACE visit www.aceweb.org. Photos from the event can also be viewed at the organization's Facebook page or by searching #ACECharleston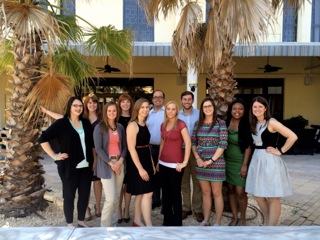 in Twitter and Instagram.
Relaxing between sessions at the ACE conference are (front, from left) Dr. Lauri Baker, Katie Rohling, Cassie Wandersee, Kelly Hannigan, Danielle Holladay, and Jennifer Ray, and (back, from left) Audrey Holderness, Jessie Topp, Scott Stebner, Nathan Laudan, and Lachelle Marshall.
The Center for Rural Enterprise Engagement has been established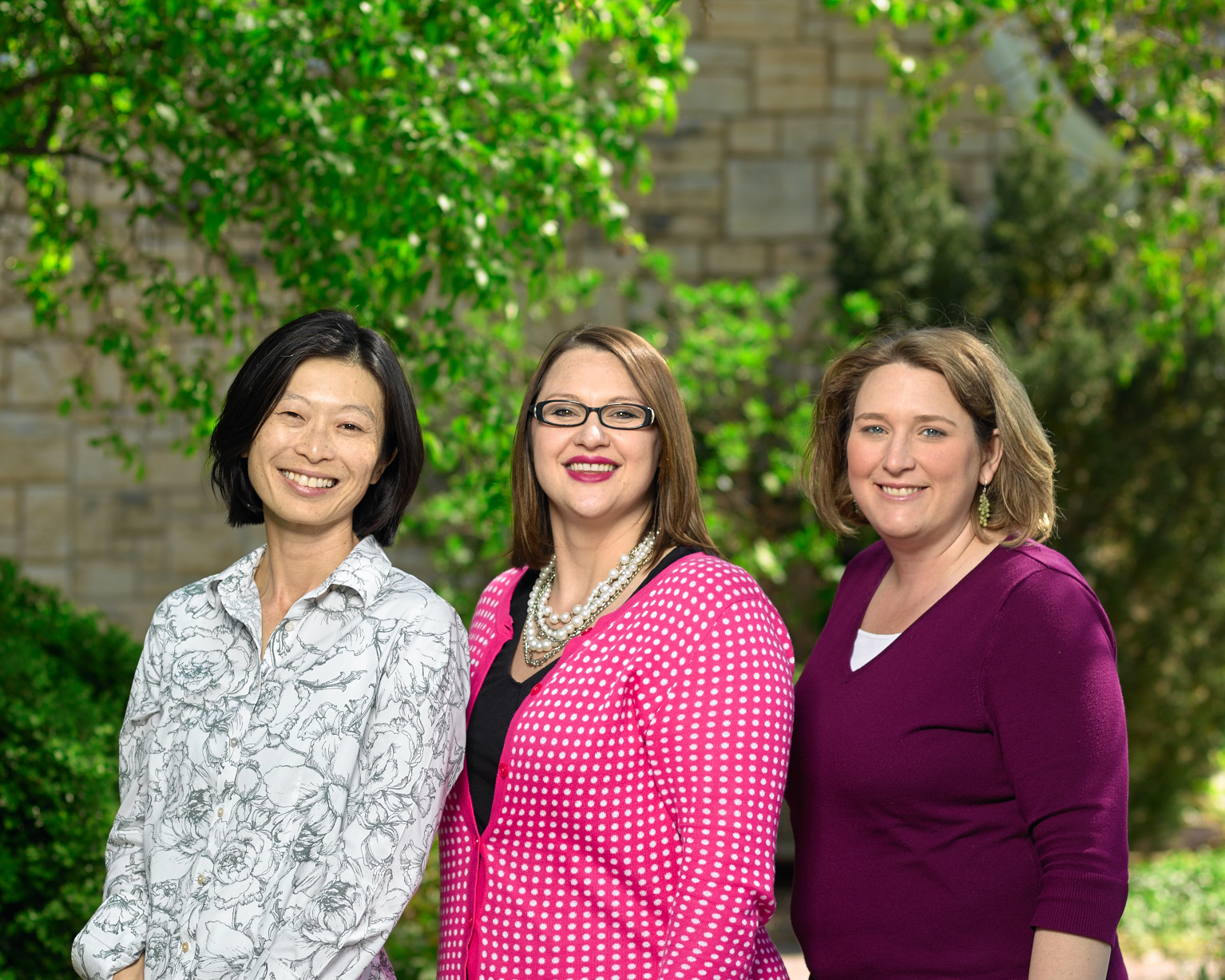 at Kansas State University to help small businesses succeed through new media marketing research. This interdepartmental effort represents a collaboration of previous federal grant funding and support from the Kansas Agricultural Experiment Station and the National Institute of Food and Agriculture.
Faculty members leading the center are, from left, Hikaru Peterson, agricultural economics; Lauri Baker, communications and agricultural education; and Cheryl Boyer, horticulture, forestry and recreation resources.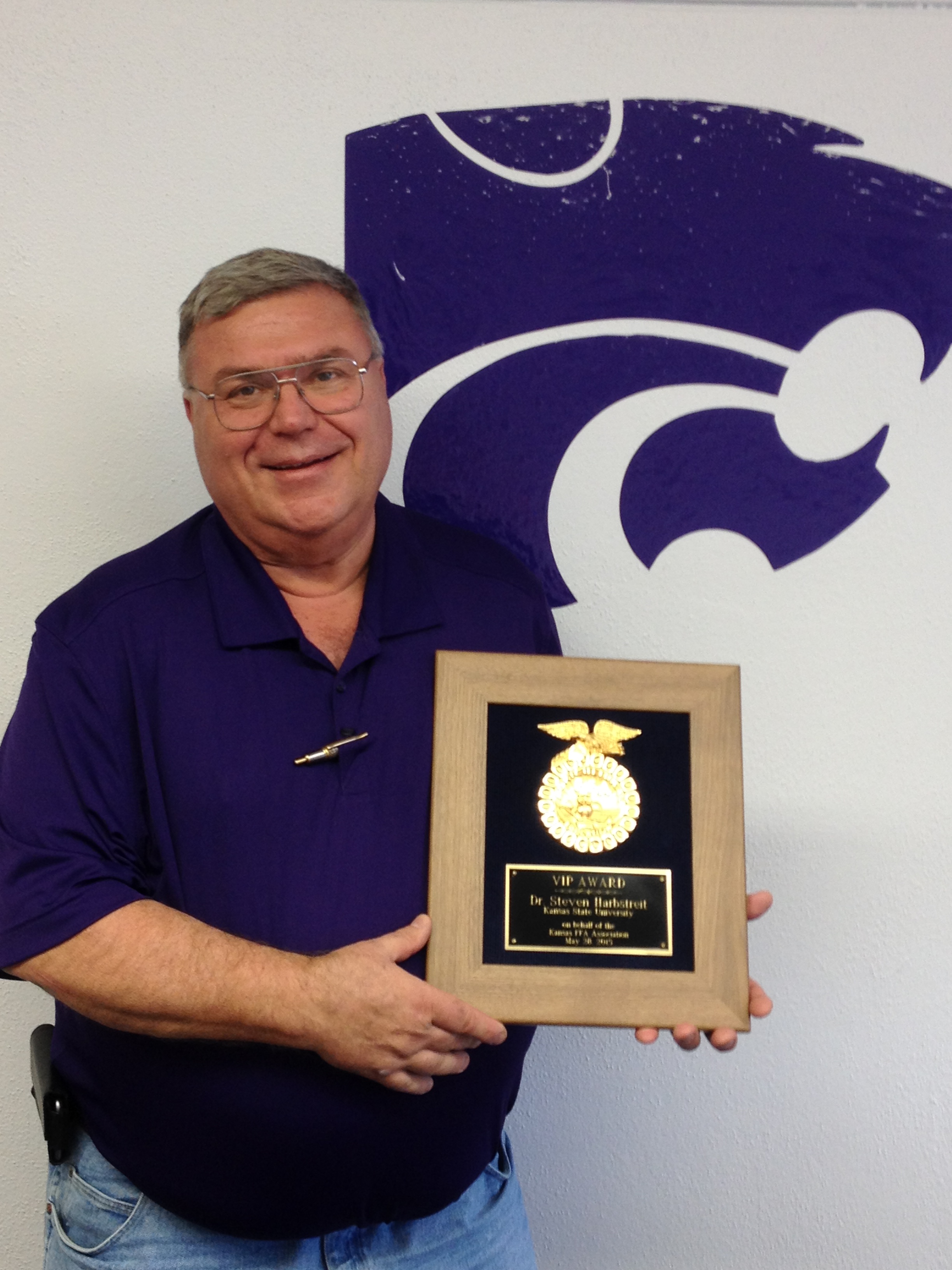 In recognition of his service to the Kansas FFA Association, Dr. Steve Harbstreit was presented the FFA VIP Citation. Harbstreit received this honor at the 2015 Kansas FFA State Convention.
This award recognizes his 44 years of service to agricultural education, with more than 28 of those years in Kansas.
Through his years of dedicated service to FFA and agricultural education, he has been a positive influence for our students and on the future of agricultural education.
Congratulations Dr. Harbstreit!