College of Agriculture selects new ambassadors
The Kansas State University College of Agriculture has selected 24 students to serve as ambassadors. The ambassadors help recruit prospective students and share their own K-State stories. They will assist with more than 650 prospective student visits and represent the college and university at events throughout the year.
Before being selected as a part of the 60-member ambassador organization, the students had to pass the College of Agriculture training program, an eight-week course teaching students about the college's departments and programs. After completion, candidates went through a competitive application process. Each submitted an application, interviewed with faculty and current ambassadors, and presented on three words they would use to describe the College of Agriculture.
Congratulations to the Communications and Agricultural Education students chosen:
Kenzie Curran, freshman in agricultural communications and journalism;
Anissa Zagonel, freshman in agricultural communications and journalism;
Dana Schulz, sophomore in agricultural communications and journalism;
Zach Cooper, freshman in agricultural education; and
Celine Beggs, freshman in agricultural communications and journalism.
Beginning Ag Teachers Convene to Develop
Financial Skills and Engagement in Community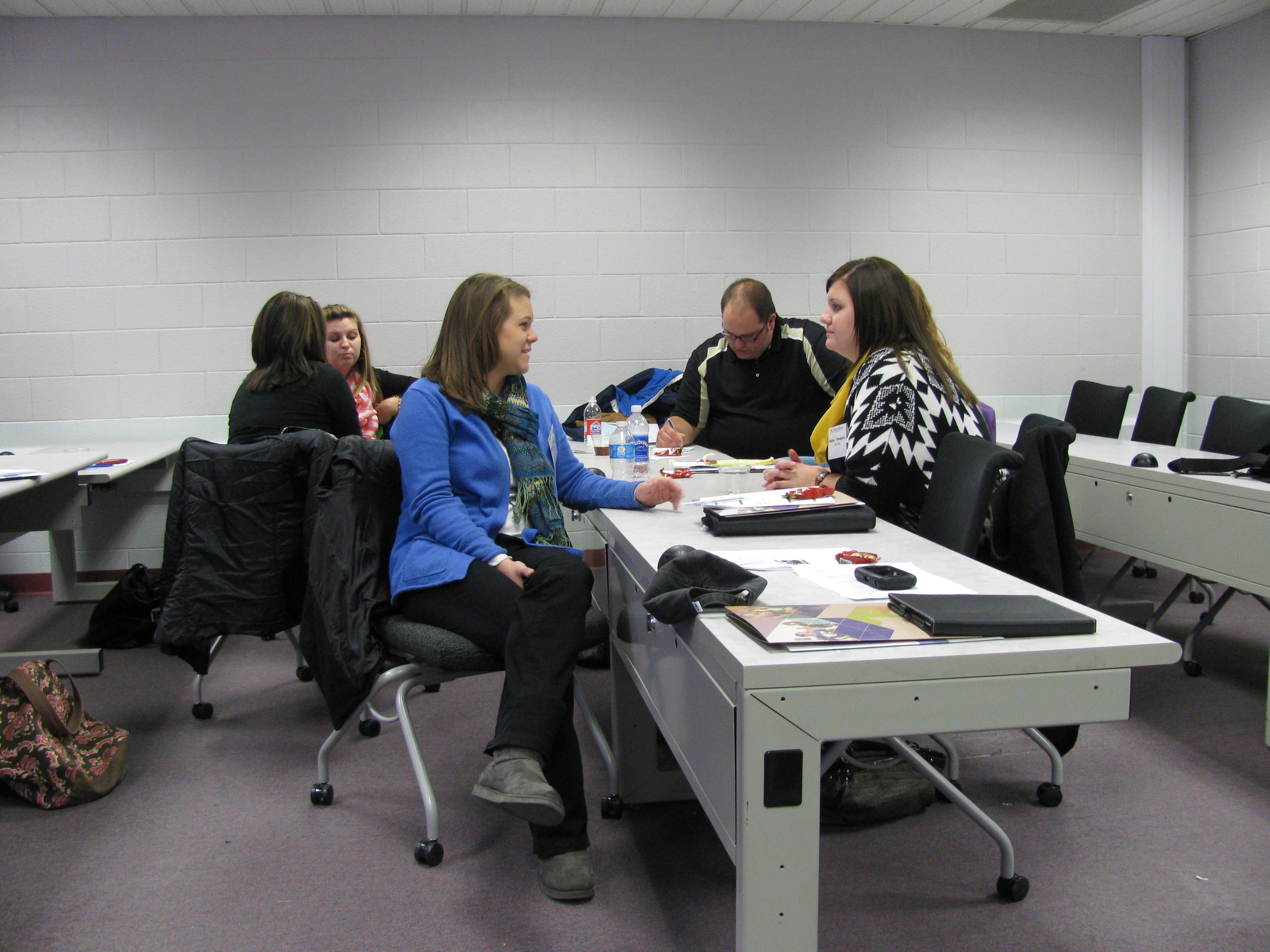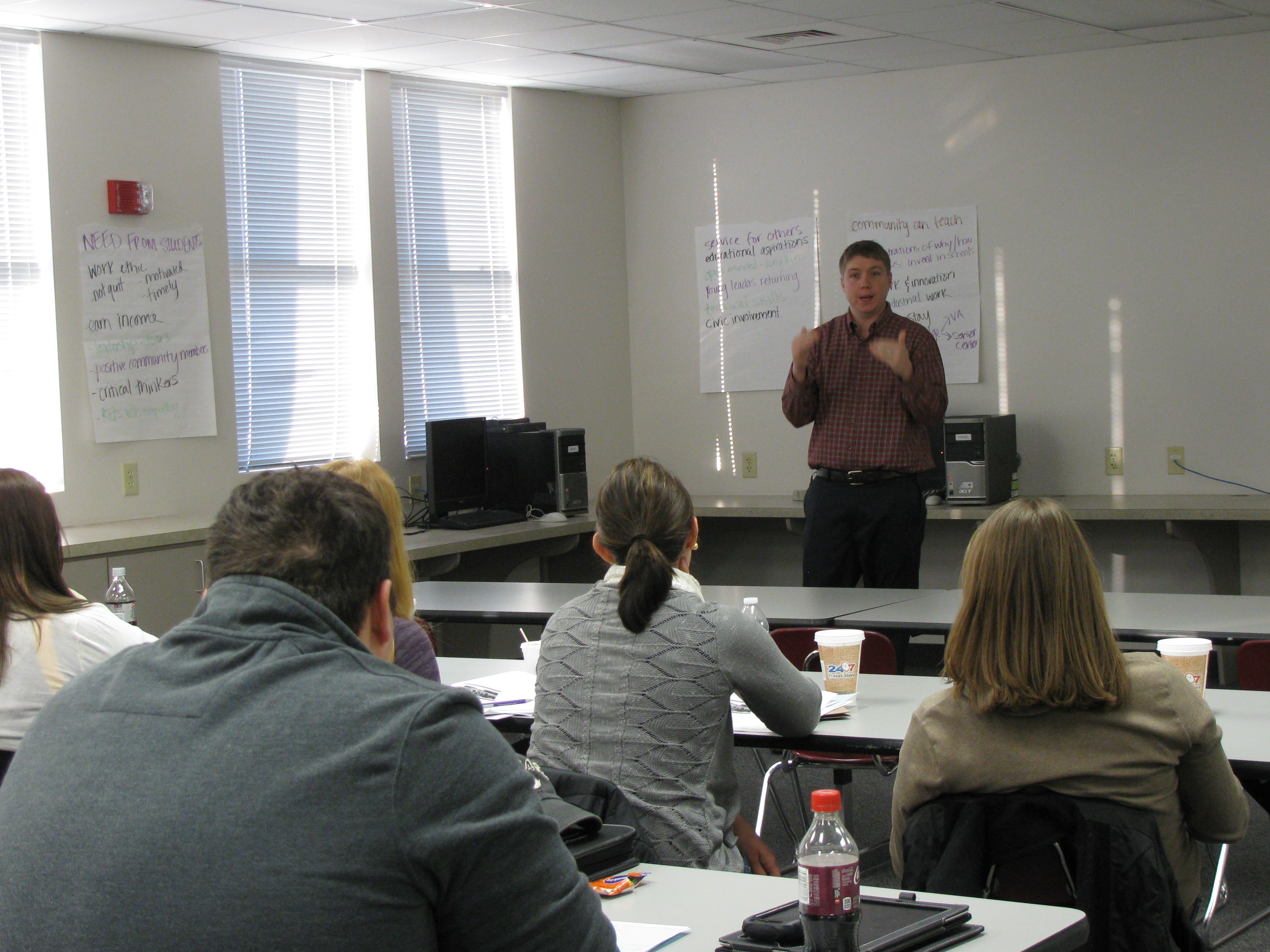 Back to the Classroom: Kansas agricultural educators attend a weekend retreat to sharpen financial planning skills and ignite engagement in rural communities through service learning projects.
Click here for more information about this service learning project.
Deb Pryor Produces Kaw Indian Nation E-Book
During her sabbatical, video producer Deb Pryor has been working with the Kaw Indian Nation to develop an e-book about their cultural heritage. The e-book will share firsthand accounts of Kaw history, the lifestyles of past and present Kaw members, and what it means to be a Kaw Indian. It also will include full-page color portraits of Kaw members in regalia, as well as some close-ups of artifacts and exhibits, and video clips from personal interviews with Kaw Nation members.
Pryor collected information over the summer at various powwows and took photographs and did video interviews with members of the Kaw Nation in Council Grove. She visited with members of the Kaw Nation, including tribal elders and council members, as well as experts such as museum curators and Kaw language experts.
"It has been a rewarding experience and an honor to help preserve the Kaw culture, which nearly became extinct in the last century," Pryor said.
In October, Pryor and her assistant, McKayla Brubaker, a K-State agricultural communications and journalism student, visited Kaw City, Okla., during the Kaw Powwow to take photographs, hand out surveys, and complete more video interviews. Brubaker was responsible for writing scripts for the book. Together, they edited the scripts and worked on the layout.
Brubaker said, "Working on this project has provided me with great industry experience, but I have also learned so much about the Kaw heritage and what they stand for as a people. I love that I am able to help them preserve their history. It's such an honor, and I'm blessed to have been a part of it."
Pryor hopes to complete the project by spring 2014. The e-book will be placed on both the Kaw Nation and Kaw Mission websites. She also hopes to publish a hardcopy book about the Kaw Nation in the next few years.
"I'm looking forward to presenting information about the project with colleagues on campus and potentially the opportunity to present at the ACE conference next summer," Pryor said.

Mission: I'm Possible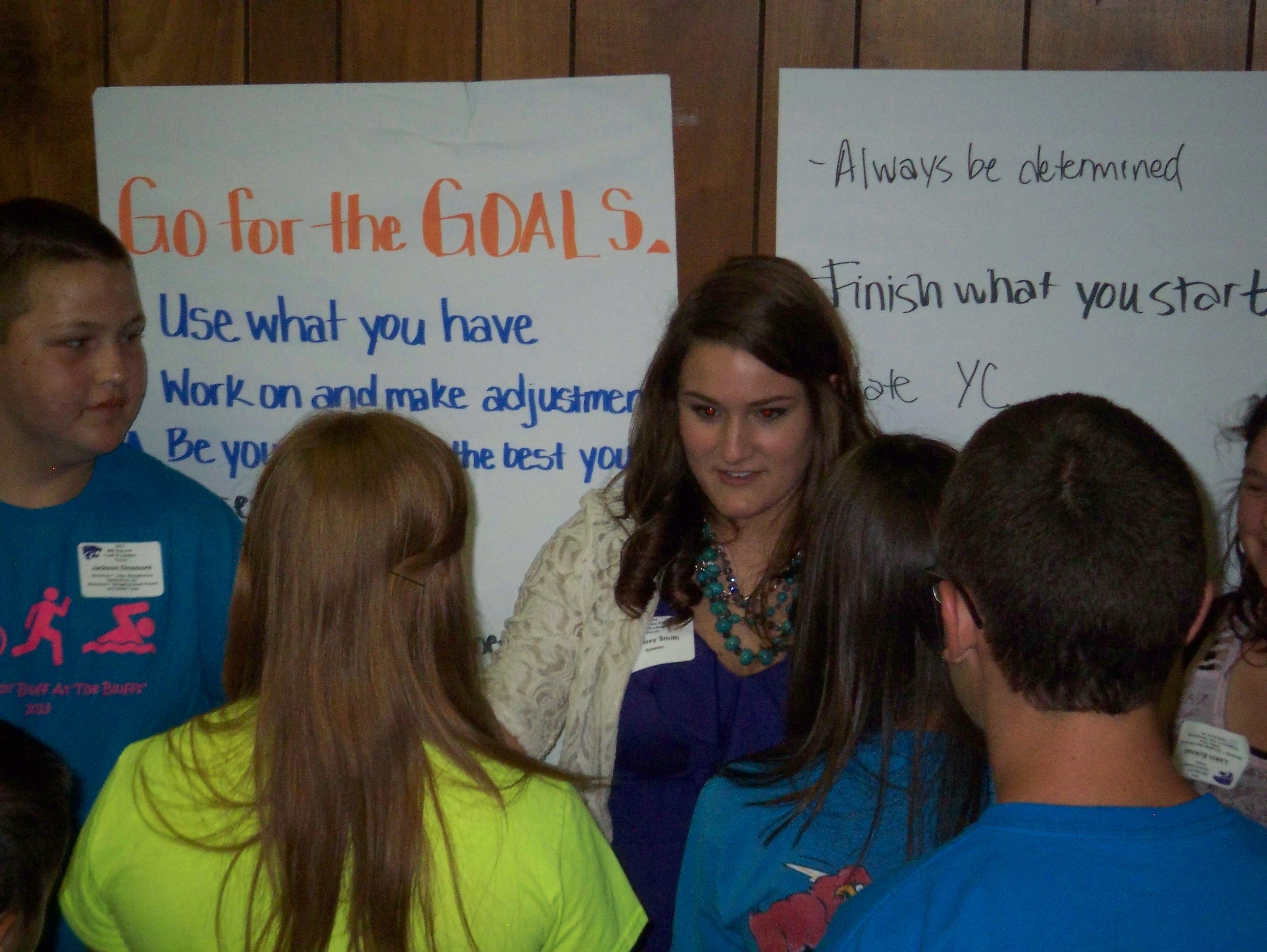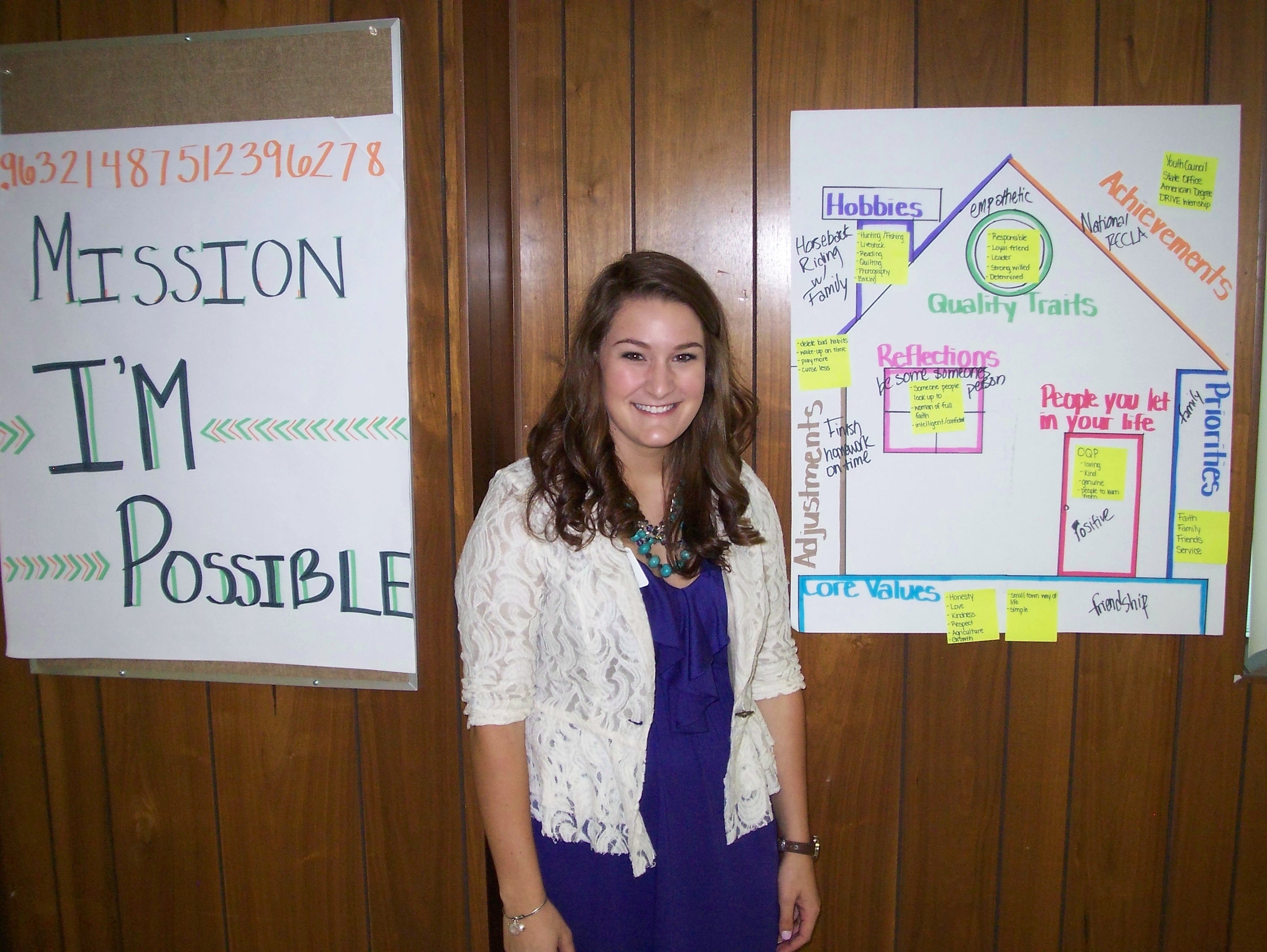 Chelsey Smith, Ellis County 4-H alumna and K-State agricultural education student, was the keynote speaker at the seventh annual Northwest Area 4-H Youth and Leaders' Forum and Day Camp August 24 at the K-State Agricultural Research Center–Hays. Forty-six teens, volunteers, and K-State Research and Extension staff attended the event that focused on the theme "Mission: I'm Possible." See more pictures of Chelsey's presentation.
KDA Photo Contest Winners Announced
The Kansas Department of Agriculture (KDA) announced the winners of the 2013 KDA photo contest.
Winning photos were selected from more than 300 photos submitted, and preliminary social media rounds identified the top four photos in each category: Agriculture at Work, Farm Faces, Picture Perfect Prairie, From the Land of Kansas, and Rollin' in the Hay. Finalist photos were then reviewed by the Secretary of Agriculture, Kansas State Board of Agriculture, and agricultural leaders in the Kansas Legislature.
"The participation and feedback we received for the photo contest this year was outstanding," said Secretary of Agriculture Dale Rodman. "It was a pleasure to see Kansans showcase their love for agriculture in this creative way, and it was exciting to see so many great photos of Kansas agriculture."
One of the winners is an alum of the ACJ program, Greg Peterson. Another winner is a current ACJ student, Kate Hagans. Both received first place in different categories.
Agriculture at Work
First place – Greg Peterson, "The Colors of Harvest"
Rollin' in the Hay
First place – Kate Hagans, "Wheat Waiting Aside the Coop"

Winners in each category will receive $100 gift cards and runner-up participants will receive $50 gift cards. In addition, the winning photos will be displayed in the Pride of Kansas Building at the Kansas State Fair. After the fair, the photos will be displayed at KDA in agricultural leadership offices in the Kansas State Capitol and used on the department's website, social media pages, and various other marketing materials.
Department Hosts CASE Institute Workshop
Brandie Disberger, Shannon Washburn, and Steve Harbstreit hosted 17 participants from Kansas, Iowa, South Dakota, and Washington and two leaders from Nebraska and Colorado for a two-week Principles of Agricultural Science — Animal course intended to serve as one of two foundational courses within the Curriculum for Agricultural Science Education (CASE) sequence.
The K-State session provided an overview of agricultural science with a foundation in animal science. Students explored hands-on projects and activities to learn the characteristics of animal science and work on major projects and problems similar to those that animal science specialists, such as veterinarians, zoologists, livestock producers, or industry personnel face in their respective careers.
CASE Institute is a professional development workshop to provide teachers training for the instruction related to a specific CASE course. Once a teacher has successfully completed 80 hours of intense professional development at a CASE Institute, the teacher is certified to teach the specific CASE course.