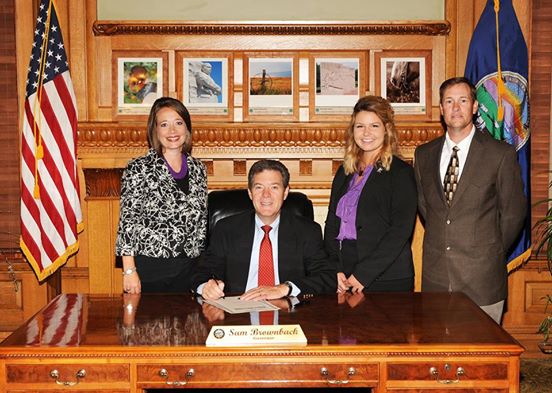 Agricultural education instructor Brandie Disberger, left, student Hannah Anderson, and Marais des Cygnes Valley High School teacher Danny Rice join Gov. Sam Brownback as he signs a proclamation declaring September 25 Kansas Teach Ag Day.
Qualified agriculture education teachers are in short supply. Kansas Teach Ag Day, in conjunction with National Teach Ag Day, celebrates current teachers and encourages students to focus on opportunities in agriculture education. More than 11,500 Kansas students are in agriculture education classes taught by 208 instructors in 176 schools.
Britton wins Forrest Bassford Award
Logan Britton, a senior majoring in agricultural communications and journalism and agricultural economics, is the recipient of the 2014 Livestock Publications Council Forrest Bassford Student Award sponsored by Alltech. Click here to read the related Drover's Cattle Network article.
Agricultural communications and journalism
students recognized at Ag Media Summit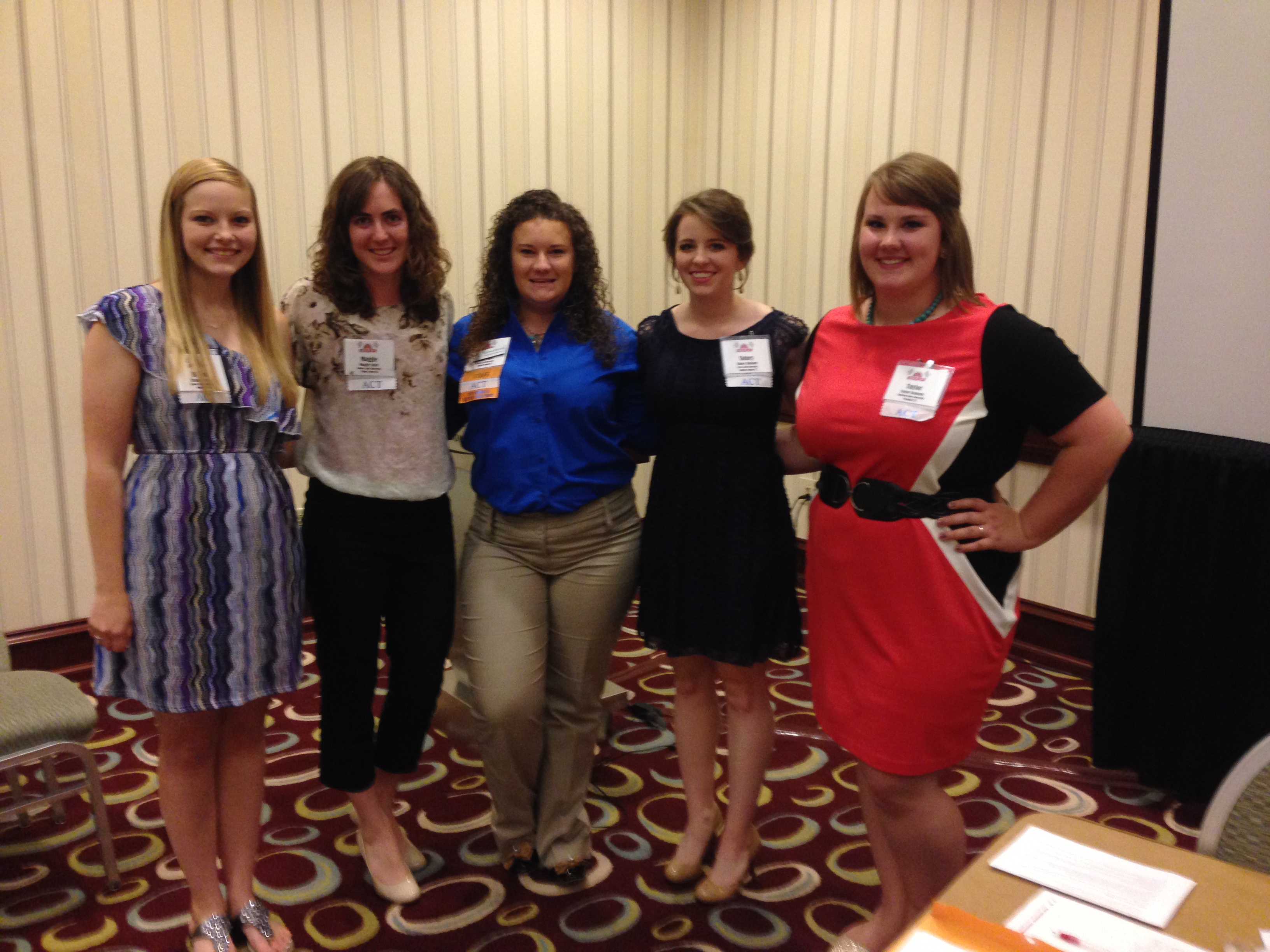 Maggie Seiler, second from left, was elected as national vice president of Agricultural Communicators of Tomorrow at the 2014 Ag Media Summit in Indianapolis. She is a senior majoring in agricultural communications. Fellow senior Briana Jacobus, far left, was chosen as member relations coordinator.
Also elected (from left after Jacobus and Seiler) were Hannah Miller, president, Texas A&M University; Sidney Holland, communications coordinator, Texas A&M; and Taylor Kennedy, secretary/treasurer, Tarleton State University.
Not shown is national adviser Dr. Emily Buck from The Ohio State University.
Five other K-State students received awards at the Ag Media Summit: Casey Droddy, first place, Public Relations Single Item and Excellence in Public Relations; Kate Hagans, second place, Radio Package; Melissa Grimmel, second place, Scenic Photo; Nicole Lane, second place, Newsletter; and Maggie Seiler, third place, Short Feature Story.
University communications staff streamlines
News media services for K-State Research and Extension (part of the Department of Communications and Agricultural Education) is co-locating into Dole Hall. Parts of news media services have been located in McCain and Dole halls for several years. Better use of space already allocated to KSRE, along with assistance from the Division of Communications and Marketing, allows co-location of those staff members, except Mary Lou Peter, who continues to work out of Olathe.
Co-location provides a means to improve efficiencies and quality. No reporting structure is changing. The office assignments in Dole Hall are: Deb Pryor, 119 (no change); Kevin Block, 117A (move within Dole); Randall Kowalik, 122; Larry Jackson, 124 (move within Dole); Eric Atkinson, 125; Elaine Edwards, 126; Dan Donnert, 127; and Katie Allen, 127. Individual phone numbers are unchanged.
Also, the department is working together with the Division of Communications and Marketing and the KSU Institute for Commercialization to staff the Global Food Systems Initiative with existing personnel. Pat Melgares, Jeff Wichman, and Brad Beckman are moving to the KSU Institute for Commercialization to join that team at 2005 Research Park Circle. They continue to report to Kris Boone, and their phone numbers remain the same.
For additional information, contact Kris Boone, kboone@ksu.edu.
A global challenge requires a world leader
Kansas State University — already a global leader among research universities in addressing the challenge of feeding a growing population — is pushing even further to maintain the U.S. food system as the most competitive in the world. From on-farm production to marketing and consumption, Kansas State University offers unparalleled expertise and credentials to advance your role in the food system. Your needs will be met and your expectations exceeded by what we offer in education, research, and outreach. Together we can meet the challenges you face in ensuring our food system remains second to none.
For more information click here.
College of Agriculture selects ambassadors
The Kansas State University College of Agriculture has selected 24 students to serve as ambassadors to help recruit prospective students and share their own K-State stories. They will assist with more than 650 prospective student visits and represent the college and university at events throughout the year.
Before being selected as a part of the 60-member ambassador organization, the students had to pass an eight-week course about the college's departments and programs, apply, and be interviewed.
Congratulations to the Communications and Agricultural Education students chosen:
Kenzie Curran, freshman in agricultural communications and journalism;
Anissa Zagonel, freshman in agricultural communications and journalism;
Dana Schulz, sophomore in agricultural communications and journalism;
Zach Cooper, freshman in agricultural education; and
Celine Beggs, freshman in agricultural communications and journalism.