Photo Contest

Staff of the Kansas State Agriculturist is sponsoring a student photo contest. Please submit original photos that showcase what the College of Agriculture means to you. From gameday to the classroom, the Kansas State University College of Agriculture is an amazing place to be. We would love to showcase your work in the Spring 2014 issue of the Agriculturist. Depending on how many entries we receive, we may be able to show the COA through your lens in a photo story spread. The contest will close on November 10 at 5 p.m. Please submit high-resolution photos to ksuagmag@gmail.com. Submitters of chosen photos will be notified on November 11.


Mission: I'm Possible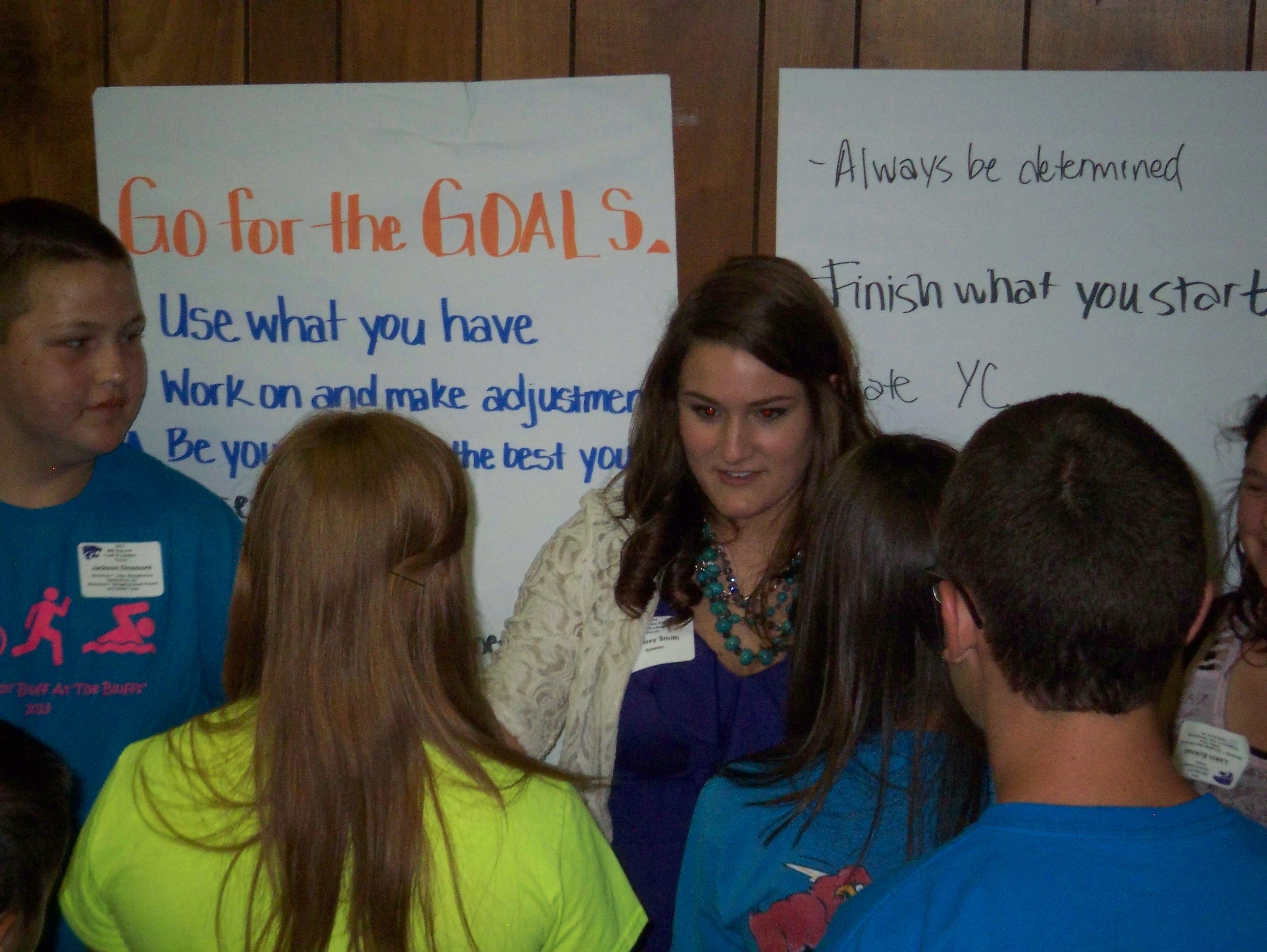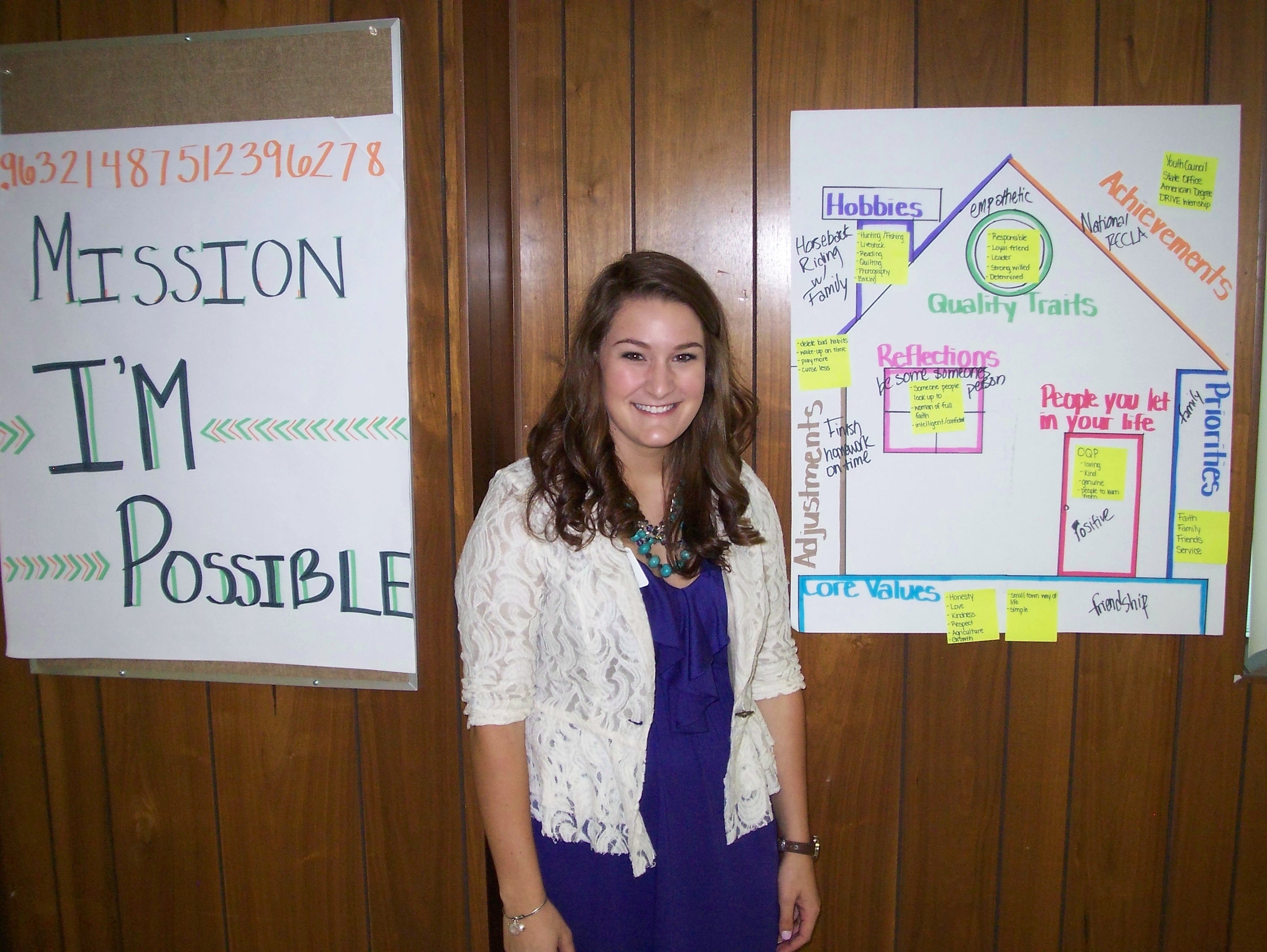 Chelsey Smith, Ellis County 4-H alumna and K-State agricultural education student, was the keynote speaker at the seventh annual Northwest Area 4-H Youth and Leaders' Forum and Day Camp August 24 at the K-State Agricultural Research Center–Hays. Forty-six teens, volunteers, and K-State Research and Extension staff attended the event that focused on the theme "Mission: I'm Possible." See more pictures of Chelsey's presentation.
K-State Students Recognized for Communications Excellence
Each year the annual meeting of the National Agricultural Communicators of Tomorrow is held in conjunction with Ag Media Summit, bringing together students and professionals in the agricultural communications, journalism and marketing industry. This year's event was August 3– 7 in Buffalo, N.Y.
The summit provides networking, professional development and educational opportunities to promote, support and showcase the viability of the agricultural publications industry. Kansas State University was represented by current agricultural communications and journalism students, Logan Britton and Claire Carlson, as well as many recent graduates of the program. Kris Boone, head of K-State's Department of Communications and Agricultural Education, accompanied the students.
Britton and Carlson were both finalists and travel award winners for the Forrest Bassford Student Award, which recognizes and rewards excellence, leadership and professionalism among students. The overall winner receives a $2,000 scholarship and up to four additional students each receive $750 travel scholarships to attend Ag Media Summit.
Also recognized at the summit were winners of the 2012–2013 Critique & Contest, which recognizes student work and accomplishments across six different categories. Results for K-State entries are listed below:
2012–2013 Critique & Contest Results
Writing Division
Photography Division

Long Feature Story
Amanda Spoo, third place

Long Feature Personality Profile
Amanda Spoo, second place
Lisa Henderson, third place

Editorial Writing
Lisa Henderson, first place

Animal Photo
Kate Hagans, first place

Excellence in Photography
Kate Hagans

Public Relations Division

Publication Division

Public Relations Single Item
International Grains Program 2012
Year in Review, first place
Staff: Amanda Spoo, Casey
Droddy, Jordan Hildebrand,
Briana Jacobus

Blog
Claire Carlson, first place

Excellence in Public Relations
International Grains Program 2012
Year in Review
Staff: Amanda Spoo, Casey
Droddy, Jordan Hildebrand,
Briana Jacobus

Magazine
Kansas State Agriculturist Spring 2013,
first place

Staff: Sadee Rohleder, Alex Lord, Robin
Kleine, Heather Oentrich, Laura
Mushrush, Mark Avilla, Amanda Spoo,
Greg Peterson

Brochure
Amanda Spoo, second place

Excellence in Publications
Kansas State Agriculturist Spring 2013
Staff: Sadee Rohleder, Alex Lord, Robin
Kleine, Heather Oentrich, Laura
Mushrush, Mark Avilla, Amanda Spoo,
Greg Peterson

Meet the Department Graduate Students!
The Department of Communications and Agricultural Education introduces its on-campus grad students, as pictured, from left to right: Scott Stebner, Lana Swendson, Jennifer Ray, Jessie Top, and Buddy Mckendree.
These five dedicated students are working hard to earn their master's degrees; Scott, Lana, Jennifer, and Jessie are working on the communications side, and Buddy is pursuing ag education.
Scott and Buddy are planning to obtain Ph.D.s in hopes of one day teaching at a university. Lana and Jennifer aspire to careers in industry. Lana is interested in the public relations area, where she would like to better understand consumer perceptions of agriculture, whereas Jennifer would like to be in an ag marketing or public relations position to promote ag literacy. Last but not least, Jessie hopes to return to her family's farm. She would like to put her degree into practice by helping the area farmers with their websites or other general communications needs.
The grad students' offices are located on the first floor of Umberger. Stop and say hi! See their contact information.
KDA Photo Contest Winners Announced
The Kansas Department of Agriculture (KDA) announced the winners of the 2013 KDA photo contest.
Winning photos were selected from more than 300 photos submitted, and preliminary social media rounds identified the top four photos in each category: Agriculture at Work, Farm Faces, Picture Perfect Prairie, From the Land of Kansas, and Rollin' in the Hay. Finalist photos were then reviewed by the Secretary of Agriculture, Kansas State Board of Agriculture, and agricultural leaders in the Kansas Legislature.
"The participation and feedback we received for the photo contest this year was outstanding," said Secretary of Agriculture Dale Rodman. "It was a pleasure to see Kansans showcase their love for agriculture in this creative way, and it was exciting to see so many great photos of Kansas agriculture."
One of the winners is an alum of the ACJ program, Greg Peterson. Another winner is a current ACJ student, Kate Hagans. Both received first place in different categories.
Agriculture at Work
First place – Greg Peterson, "The Colors of Harvest"
Rollin' in the Hay
First place – Kate Hagans, "Wheat Waiting Aside the Coop"

Winners in each category will receive $100 gift cards and runner-up participants will receive $50 gift cards. In addition, the winning photos will be displayed in the Pride of Kansas Building at the Kansas State Fair. After the fair, the photos will be displayed at KDA in agricultural leadership offices in the Kansas State Capitol and used on the department's website, social media pages, and various other marketing materials.

Systems Programmer Recruitment
K-State Research and Extension, Department of Communications and Agricultural Education seeks applicants for TWO systems programmer positions. Candidates must possess a bachelor's or associate degree in CIS or a closely related field requiring a high degree of software design and programming expertise. One year of experience required if candidate has a bachelor's degree; three years of experience required if the candidate holds an associate degree. Experience must be with software development in a networked environment, including information architecture of web-based systems with SQL and relational database management systems. A strong commitment to expanding and fostering diversity is required. Complete position description and application procedures available at http://www.communications.k-state.edu/about-us/employment-opportunities.html. EOE. Background check required.

Congratulations to graduate student Jennifer Ray,
who won the "People's Choice" Award as the winner of the department's salsa competition on Aug. 20. Several department members showed up for a tasty afternoon of salsa dipping (not dancing!). There were 10 entries in the inaugural competition.
Taneysha Howard Received
Second Place in Public Speaking
Three students from the College of Agriculture, all members of the university's chapter of Minorities in Agriculture, Natural Resources and Related Sciences, won awards in the photo or speaking contests at the national society's 28th annual Career Fair and Training Conference. Lonell Brown, senior in animal sciences and industry, received first place in the photo contest; Simone Holliday, sophomore in animal sciences and industry and chapter president, received second place in the photo contest; and Taneysha Howard, junior in agricultural communications and journalism, received second place in the public speaking contest.
Ellis Named Teacher Fellow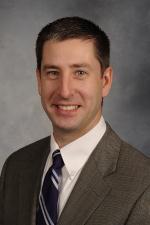 Jason Ellis, associate professor of agricultural communications and journalism, received the North American Colleges and Teachers of Agriculture (NACTA) Teacher Fellow Award Friday, June 28, in Blacksburg, Va., at the organization's awards banquet. NACTA recognizes individuals whose efforts represent the very best in agricultural higher education. The NACTA Teacher Fellow Award is a criterion-based award that considers the nominee's teaching philosophy, student and colleague evaluations, teacher evaluations, and administrative recommendation.
Department Hosts CASE Institute Workshop
Brandie Disberger, Shannon Washburn, and Steve Harbstreit hosted 17 participants from Kansas, Iowa, South Dakota, and Washington and two leaders from Nebraska and Colorado for a two-week Principles of Agricultural Science — Animal course intended to serve as one of two foundational courses within the Curriculum for Agricultural Science Education (CASE) sequence.
The K-State session provided an overview of agricultural science with a foundation in animal science. Students explored hands-on projects and activities to learn the characteristics of animal science and work on major projects and problems similar to those that animal science specialists, such as veterinarians, zoologists, livestock producers, or industry personnel face in their respective careers.
CASE Institute is a professional development workshop to provide teachers training for the instruction related to a specific CASE course. Once a teacher has successfully completed 80 hours of intense professional development at a CASE Institute, the teacher is certified to teach the specific CASE course.
Ag Education Students Chosen as Ambassadors

Students Lacie Darnell (left) and Kinzie Selke (below) are among the 11 future agricultural education teachers selected as national ambassadors. They will spend the next year promoting the agricultural education profession as part of the National Teach Ag Campaign ambassador program.
They will attend the 2013 National FFA Convention in Louisville, Ky., Oct. 30–Nov. 1 to encourage high school students currently enrolled in agricultural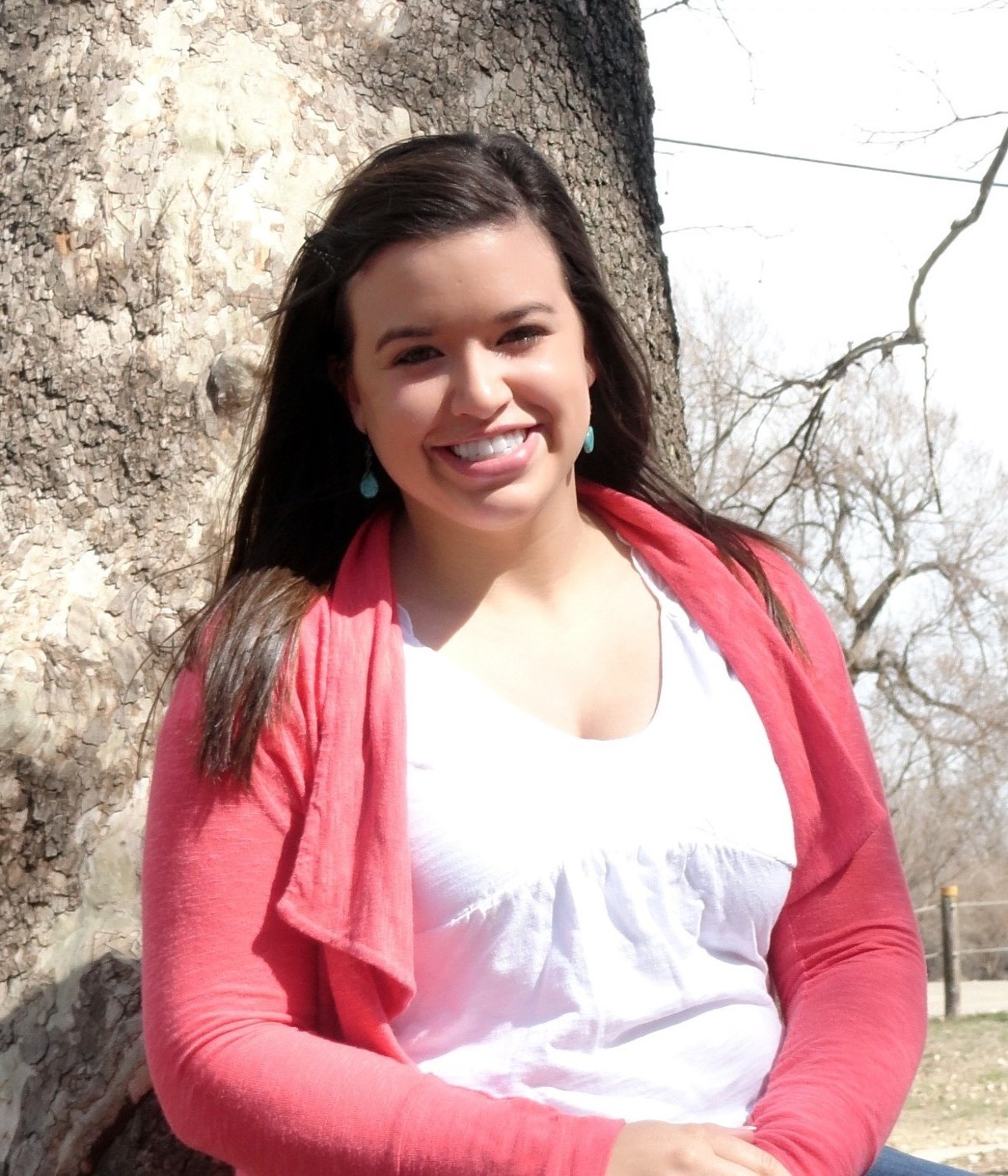 education programs to consider becoming agriculture teachers.
They also will be paired with a mentor teacher who will help them plan, prepare, and present an agriculture lesson at a Louisville middle school.
Lacie and Kinzie will receive promotional materials to use at K-State and around Kansas to spread the Teach Ag message.
4-H Discovery Days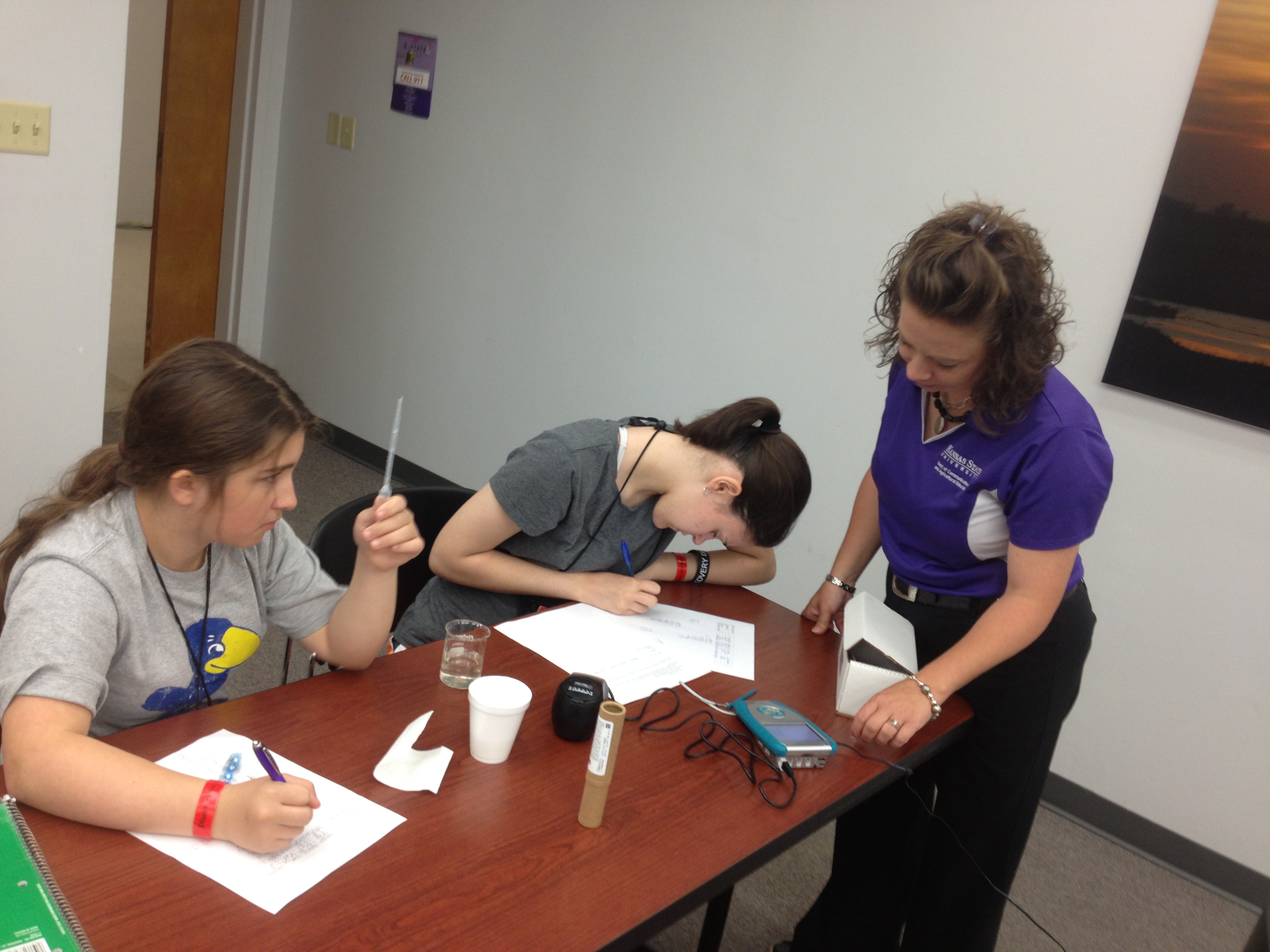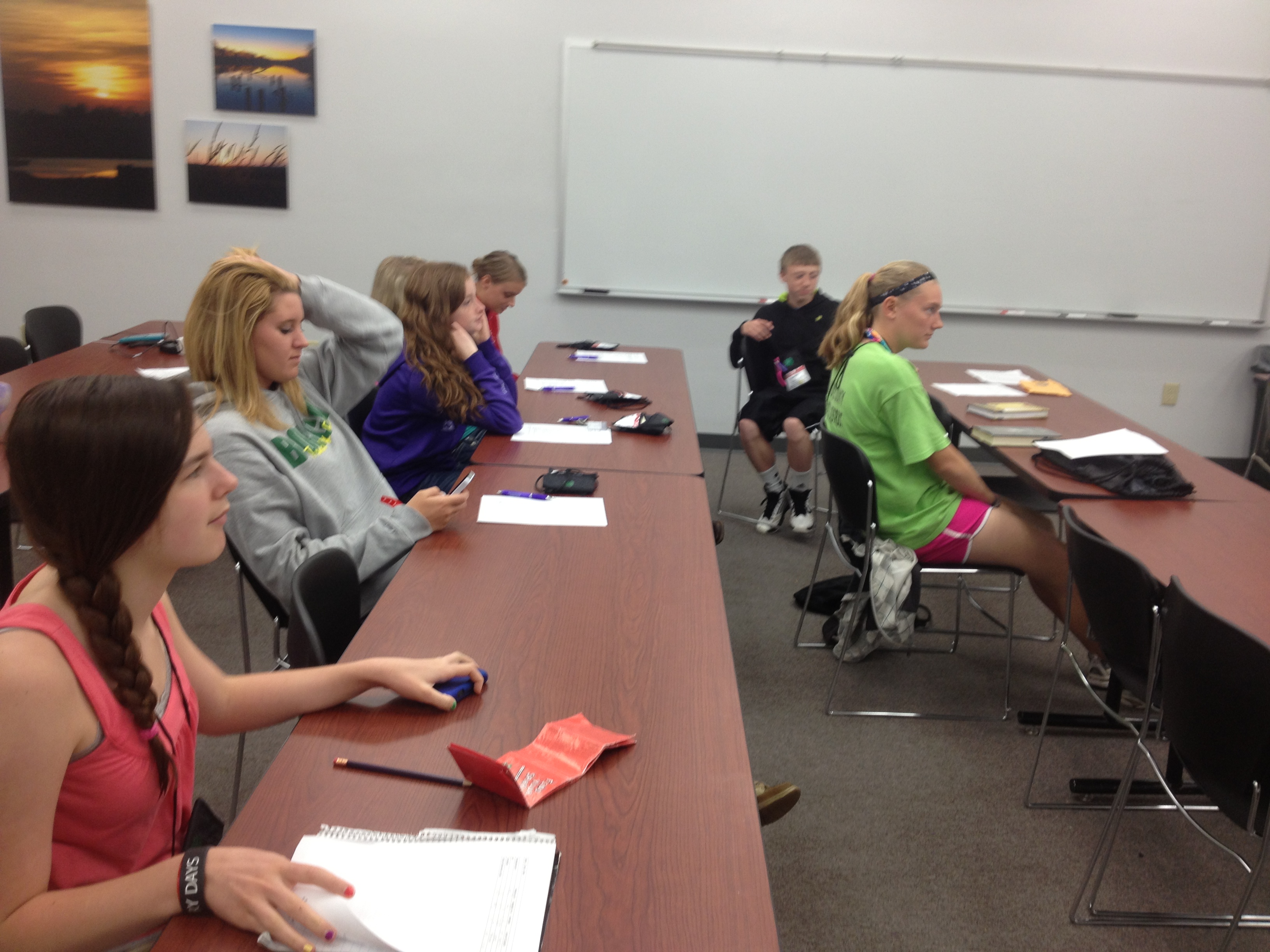 The students were given a water sample and tested it for various components, such as temperature and turbidity. After gathering data about the water, they presented a PowerPoint about using social media marketing. The students were then asked to design their own social media platform and share it with the group.
Outstanding Seniors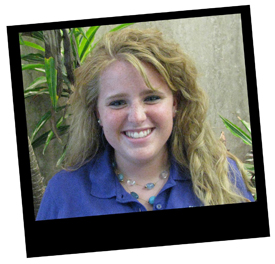 Amanda Spoo, Hermiston, Ore., is the Agricultural Communications and Journalism Outstanding Senior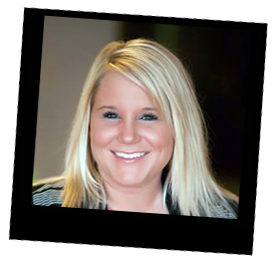 Katie Manback, Humboldt, is the Agricultural Education Outstanding Senior
Washburn Named Outstanding Adviser
Shannon Washburn, professor of agricultural education, earned the outstanding advising award from Gamma Sigma Delta, honor society of agriculture, at the organization's spring recognition reception on April 26. Agricultural communications and journalism students Paula Blough and Claire Carlson received GSD junior honor awards at the event.
Schifferdecker Initiated into Blue Key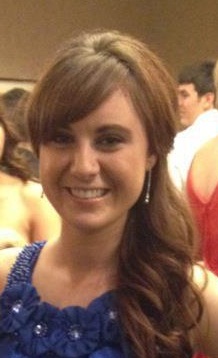 Sara Schifferdecker, junior in agricultural education, was initiated into the Kansas State University chapter of Blue Key for the 2013–2014 academic year. She has served as president and programs vice president for Alpha Xi Delta sorority, been a member of Student Mobilization's leadership team, and served as state reporter for the Kansas FFA Association. She will serve as director of personal and professional development for Blue Key, a nationwide honor society for college seniors. Read full announcement.
Droddy Chosen for National AFA Leadership Team

Casey Droddy, junior in agricultural communications and journalism/animal sciences and industry, has been selected as a member of the 2013–2014 Agriculture Future of America leadership team. The team serves as ambassadors among AFA, their college campuses, and the organization's corporate partners. Read full announcement.
Celebrating 150 Years with a Historical Video Project
Paige Druffel, sophomore in agricultural communications and journalism and director of social media for the College of Agriculture Academic Programs Office, created a historical video for the Department of Animal Sciences and Industry.