Congratulations Graduates of 2015!
We look forward to celebrating with the graduates of Communications and Agricultural Education!
The graduation brunch will be 9 to 10:30 a.m. Saturday, May 16, at the United Methodist Harris Activity Center, 530 Poyntz Ave., Manhattan, Kansas.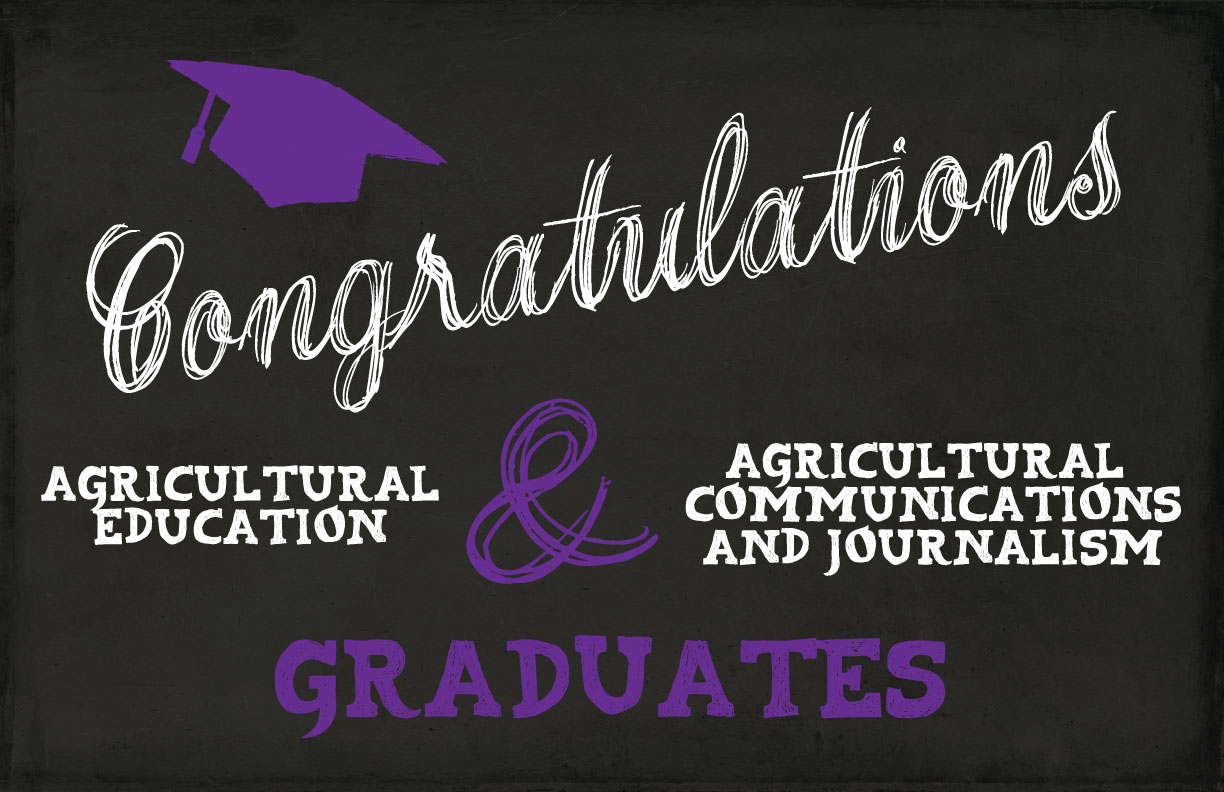 ---
ACT members attend conference in Florida
By Audrey Schmitz
Fourteen Kansas State University students traveled to Orlando, Florida, for the National Agricultural Communicators of Tomorrow (ACT) Professional Development Conference. (See https://actpdc2014.wordpress.com/) In addition to attending conference sessions, they toured farms and met with producers, agricultural communicators, and other industry professionals.
State Rep. Jake Raburn spoke about the importance of agriculture to Florida's economy. Michelle Matuszewski, a talent manager at Walt Disney World, discussed leadership development and how actions define leadership. Mary Hartney, president of the Florida Fertilizer and Agrichemical Association, shared the challenges and opportunities facing Florida's plant nutrient, crop protection, and ag biotech interests. Joy Rumble, assistant professor at the University of Florida's Department of Agricultural Education and Communication, discussed the importance of transparent communication with audiences disconnected from or outside of agriculture. Ben Bolusky — chief executive officer for the Florida Nursery, Growers, and Landscape Association — led a session about the state's nursery greenhouse industry.
A highlight of the trip was visiting Fancy Farms Strawberry Field in Plant City, Florida. The nearly 250 acres of strawberry plants produce about 7,000 boxes of hand-picked strawberries daily. Members spent the afternoon at Florida's Natural Growers Visitor Center in Lake Wales, picking oranges and tasting a variety of juices. The cooperative consists of more than 60,000 acres of orange, grapefruit, and lemon groves. Growers discussed changes in the orange industry, which has been battling a citrus disease, "greening" that has decreased Florida's orange production by half over the past 10 years.
Members participated in a speed networking activity, visited the Gatorland theme park, and toured the Keel and Curley Winery and Harrell's Nursery, both in Plant City.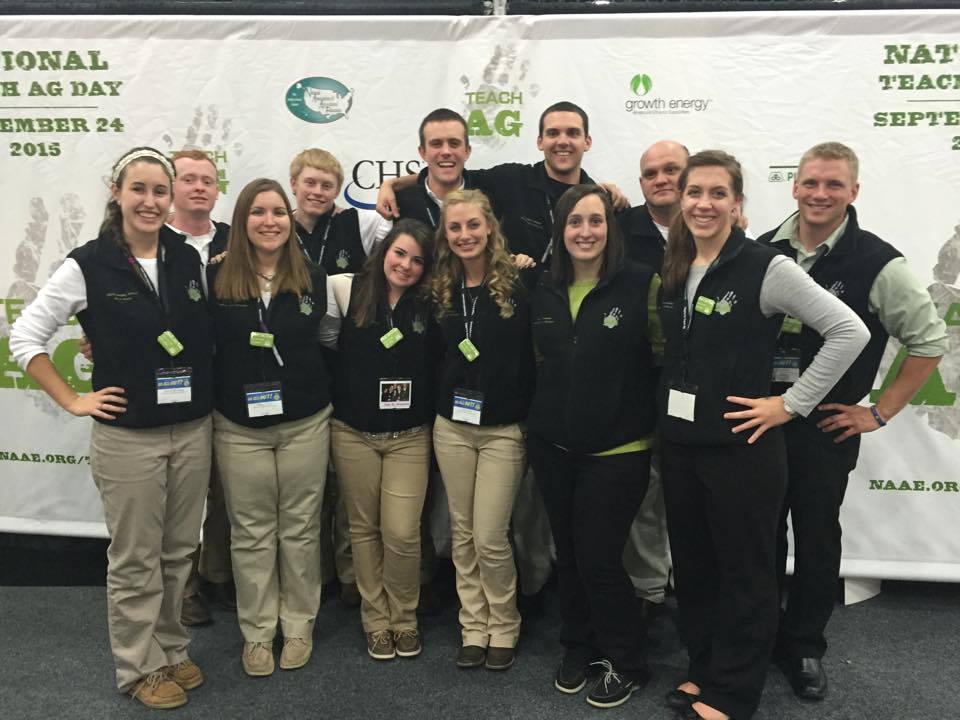 A group of K-State agricultural education majors attended the National FFA Convention as representatives of the K-State Agricultural Education Club and the Department of Communications and Agricultural Education. Attendees participated in professional development activities related to the major.
With more than 64,000 people attending the National FFA Convention, the event provides students with opportunities to experience diversity, establish connections across the country, and grow professionally as future agricultural educators.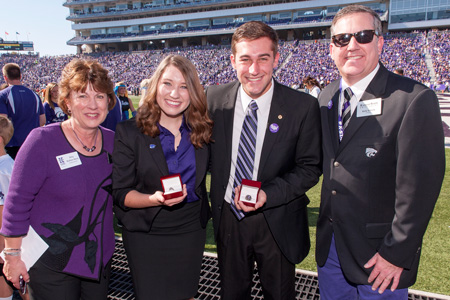 Nathan Laudan, senior in food science and agricultural communications and journalism, and Katie VanDever, sophomore in communication studies, were announced as 2015 K-State Student Ambassadors during halftime of the K-State homecoming football game. They will represent the student body at alumni and student events for one year. The student ambassador program is sponsored by the K-State Alumni Association.
To meet our new ambassadors click here!
Kansas State University's Global Food Systems Initiative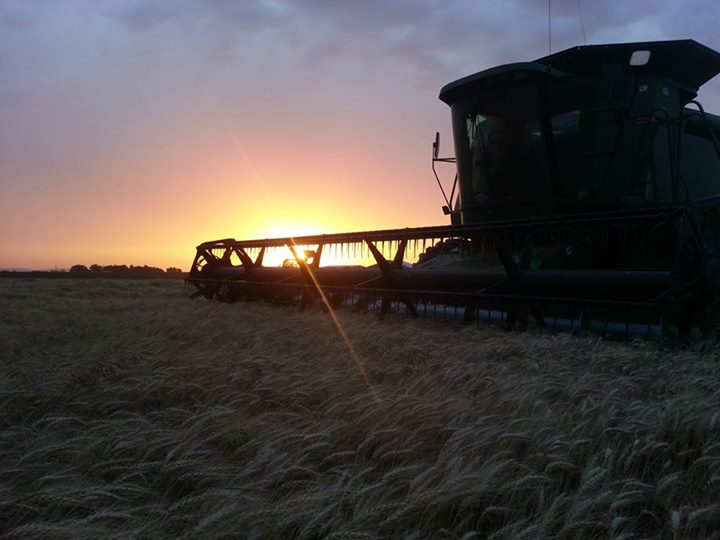 Kansas State University recently launched the Global Food Systems Initiative. The initiative focuses on the food production and consumption cycle. This "field-to-fork" approach includes food animals, food plants, and components such as unmanned aerial systems to monitor crops, sensory analysis of food products, storage, transportation, processing and manufacturing, nutritional additives, water resources, and more.
K-State is working with companies around the world to leverage the university's food systems research and facilities — including the Biosecurity Research Institute and the National Bio and Agro-Defense Facility — and to meet industry's need for innovation, talent, and professional training to address emerging food challenges from a rapidly growing global population. Visit their website for more information.
Photo: "The Colors of Harvest" by Greg Peterson

Agricultural communications and journalism
students recognized at Ag Media Summit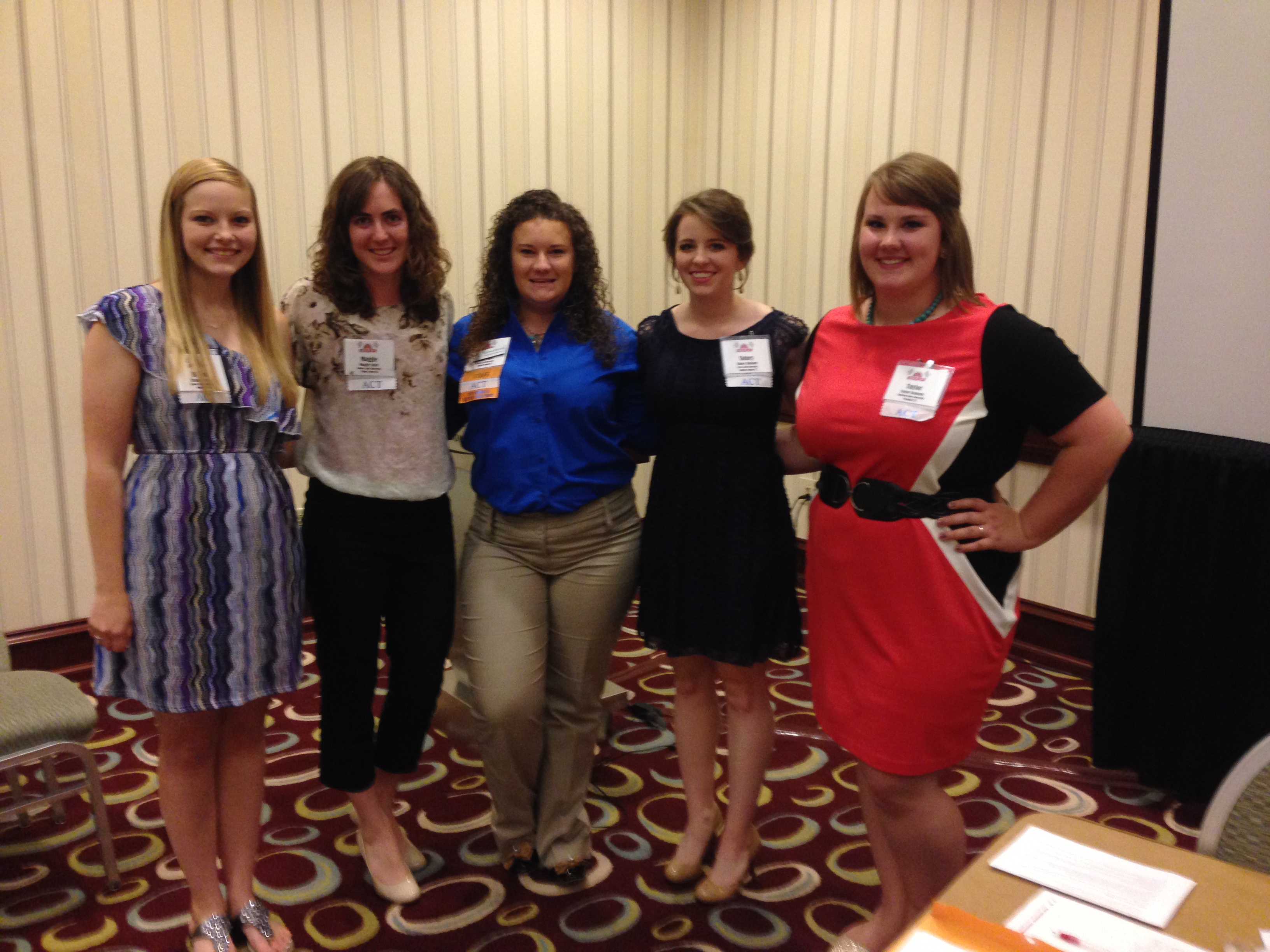 Maggie Seiler, second from left, was elected as national vice president of Agricultural Communicators of Tomorrow at the 2014 Ag Media Summit in Indianapolis. She is a senior majoring in agricultural communications. Fellow senior Briana Jacobus, far left, was chosen as member relations coordinator.
Also elected (from left after Jacobus and Seiler) were Hannah Miller, president, Texas A&M University; Sidney Holland, communications coordinator, Texas A&M; and Taylor Kennedy, secretary/treasurer, Tarleton State University.
Not shown is national adviser Dr. Emily Buck from The Ohio State University.
Five other K-State students received awards at the Ag Media Summit: Casey Droddy, first place, Public Relations Single Item and Excellence in Public Relations; Kate Hagans, second place, Radio Package; Melissa Grimmel, second place, Scenic Photo; Nicole Lane, second place, Newsletter; and Maggie Seiler, third place, Short Feature Story.
University communications staff streamlines
News media services for K-State Research and Extension (part of the Department of Communications and Agricultural Education) is co-locating into Dole Hall. Parts of news media services have been located in McCain and Dole halls for several years. Better use of space already allocated to KSRE, along with assistance from the Division of Communications and Marketing, allows co-location of those staff members, except Mary Lou Peter, who continues to work out of Olathe.
Co-location provides a means to improve efficiencies and quality. No reporting structure is changing. The office assignments in Dole Hall are: Kevin Block, 117A (move within Dole); Randall Kowalik, 122; Larry Jackson, 124 (move within Dole); Eric Atkinson, 125; Elaine Edwards, 126; Dan Donnert, 127; and Katie Allen, 127. Individual phone numbers are unchanged.
Also, the department is working together with the Division of Communications and Marketing and the KSU Institute for Commercialization to staff the Global Food Systems Initiative with existing personnel. Pat Melgares, Jeff Wichman, and Brad Beckman are located at the KSU Institute for Commercialization to join that team at 2005 Research Park Circle. They continue to report to Kris Boone, and their phone numbers remain the same.
For additional information, contact Kris Boone, kboone@ksu.edu.
College of Agriculture selects ambassadors
The Kansas State University College of Agriculture has selected 24 students to serve as ambassadors to help recruit prospective students and share their own K-State stories. They will assist with more than 650 prospective student visits and represent the college and university at events throughout the year.
Before being selected as a part of the 60-member ambassador organization, the students had to pass an eight-week course about the college's departments and programs, apply, and be interviewed.
Congratulations to the Communications and Agricultural Education students chosen:
Kenzie Curran, freshman in agricultural communications and journalism;
Anissa Zagonel, freshman in agricultural communications and journalism;
Dana Schulz, sophomore in agricultural communications and journalism;
Zach Cooper, freshman in agricultural education; and
Celine Beggs, freshman in agricultural communications and journalism.