CASE Institute Information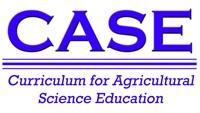 FAST TRACK: Principles of Agricultural Science - Animal
For prior CASE certified teachers only. Application required.
Hosted by Kansas State University
Manhattan, Kansas
June 19-24, 2017

Course Description
The major focus of the Principles of Agricultural Science – Animal (ASA) course is to expose students to agriculture, animal science, and related career options. Students participating in the ASA course will have experiences in various animal science concepts with exciting hands-on activities, projects, and problems. Students' experiences will involve the study of animal anatomy, physiology, behavior, nutrition, reproduction, health, selection, and marketing. For example, students will acquire skills in meeting the nutritional needs of animals while developing balanced, economical rations. Throughout the course, students will consider the perceptions and preferences of individuals within local, regional, and world markets.
Students will explore hands-on projects and activities to learn the characteristics of animal science and work on major projects and problems similar to those that animal science specialists, such as veterinarians, zoologists, livestock producers, and industry personnel, face in their respective careers.
In addition, students will understand specific connections between animal science lessons and Supervised Agricultural Experience and FFA components that are important for the development of an informed agricultural education student. Students will investigate, experiment, and learn about documenting a project, solving problems, and communicating their solutions to their peers and members of the professional community.
The ASA course of study includes:
Background and Social Issues of Animal Science
Anatomy and Physiology
Nutrition
Reproduction
Genetics
Animal Health
Animal Selection
CASE Institute description
CASE Institute is a professional development workshop to provide teachers with training for the instruction related to a specific CASE course. CASE Institute sessions give teachers an important background related to the pedagogy used in CASE curricula as well as practice teaching various lessons to prepare them for classroom instruction.
CASE Institute Schedule
Monday, June 19, 2017
4 pm: Registration opens
5:30 pm: Kickoff meeting and meal

June 20-23, 2017
8 am to 5 pm: CASE Classes (Lunch: noon to 1 pm)
June 24, 2017
Please do not plan departure from Manhattan before 2 pm.
Planning Resources
Registration
Form: Complete the registration process located on the CASE website.
Fees: $2,250 per person
Registration includes all training materials, access to laboratory equipment, full lodging, and meals.
Travel
By Car:
If you are driving to Manhattan, here is the link to directions.

By Plane:
The Manhattan Regional Airport offers daily direct flights to Chicago and Dallas on American Eagle Airlines. To see flight information Manhattan is about a 2-hour drive from Wichita's Mid-Continent Airport and the Kansas City International Airport, where shuttle service is available.
As you book air travel for departure, please be aware that the Kansas City and the Wichita airports are 2 1/2 hours from Manhattan, and check-in is generally expected at least 2 hours before departure.
Lodging
Lodging expenses are included in the registration cost and will be provided at a hotel with two participants per room.
Meals
Meals will be provided and are included in the cost of registration. Continental breakfast is provided at the hotel, lunch is on campus and a meal card is provided for dinner.
Parking
Permits are required for all vehicles parked on campus and will be provided for participants, as needed.
Graduate Credit
Kansas State University offers 3 hours of graduate credit. Contact Jon Ulmer (julmer@ksu.edu) for enrollment details.
Primary Contact

Brandie Disberger bdis@ksu.edu Office: 785-532-1175 Cell: 620-200-0664

Payments will be made to Kansas State University. Mail payments to Brandie Disberger, 301 Umberger Hall, Manhattan, KS 66502